Working at UM
Welcome to Maastricht University – the most international university in the Netherlands! At UM, everything revolves around innovation, diversity and impact. Our unique educational model offers you, as a new staff member, the opportunity to make a difference and to contribute to groundbreaking research and future-oriented teaching.
What sets us apart? Our international character and multidisciplinary approach. At UM, you can meet people from across the entire globe and work together with experts from various fields. You are given the space to let your talents shine and to take your career to new heights.
At Maastricht University, we believe in the power of every individual. Your unique skills and perspectives are invaluable to our university community and to broader society. Together, we inspire one another to grow, innovate and contribute to positive change. 
Here you can find more on:
This is Maastricht University
Vacancies
Application procedure
Terms of employment
HR Strategy fo researchers (HRS4R)
Life in Maastricht
Culture and values 
Diversity and inclusivity 
Meet our recruiters
Looking for a new job?
 On the right you will find a complete overview of our current vacancies. Do you want to know more about a vacancy or about working at Maastricht University? Every vacancy has its own contact person. This contact person can tell you more about the position, if you have any questions about that.
  UM recently switched to a new vacancies-website. All new vacancies can be found via the green button. Already published and our new vacancies (total overview) can be found via academic transfer.
Open application?
Considering the high number of vacancies we process each year, we unfortunately cannot accept open applications. To stay informed of new vacancies, create a job alert on our vacancy website.
View our current
Vacancies
This is Maastricht University
This is Maastricht University
This short video will give you a brief introduction to Maastricht University and its teaching, research, collaborations and community. This is my university, this is UM!
Application procedure
 We strive for a fair, transparent and inclusive application process in which equal opportunities are offered to all applicants, regardless of their background, gender, age, nationality or disability status. Here, all candidates receive equal treatment and respect and we enforce strict regulations to assess every application in an objective and professional manner.
In addition, we greatly value diversity and non-discrimination, both within our research teams and in our broader university community. We foster an inclusive work environment in which all staff members feel valued, respected and welcome.
What you can expect from us:
Application
If you have found an interesting vacancy, then apply by submitting your CV and a letter of motivation. Some vacancies require extra documents in the application, such as lists of marks and degree certificates. Each vacancy has its own application deadline. After this date, the vacancy will no longer be visible on the website. Upon submitting your application, you will receive a confirmation email. If you have not received one, please contact Connect & Recruit.
Selection
After the vacancy deadline has passed, we will begin the first selection round of applicants. We strive to contact each applicant within two weeks of the application deadline. Candidates who have been selected by the selection committee will be invited for a preliminary interview.
Interviews
The number of interview rounds that will take place depends on the job position and the faculty or department. The selection committee(s) will keep you informed of the status of the procedure and the outcome of the interview(s).
Terms of employment meeting:
If you have been selected as the chosen candidate, then a terms of employment meeting will be scheduled with the person responsible for the vacancy manager and/or an HR advisor. Once the terms of employment have been agreed, an employment contract will be drafted and sent to you.
Before you start
We strive to prepare everything as well as possible so that your first day goes smoothly. Do you have any questions before you get started? Then please contact your new manager or HR advisor. We hope to welcome you soon at Maastricht University.
In-person interview?
If you have been invited for an in-person interview at a UM location, you can declare your travel costs retroactively via this declaration form.   
Make sure you know where you're going in advance by taking a look at our virtuele campus tour.
HR Strategy for researchers (HRS4R)
At Maastricht University, we stand behind the important principles of the European Charter for Researchers and Code of Conduct for the Recruitment of Researchers, as well as the Dutch NVP application code. These principles form the core of our recruitment and selection process for new staff members.
With the implementation of the HR Strategy for Researchers (HRS4R), we strive to provide our researchers with an inspiring and stimulating work environment. By complying with the principles of the European Charter for Researchers and Code of Conduct for the Recruitment of Researchers, as well as those of the Dutch NVP application code, we strive for excellence in human resources.
You can therefore trust that our recruitment and selection procedure is based on these quality principles and that we are committed to a diverse, inclusive and equitable work environment in which the talents of every staff member are recognised and rewarded.
Would you like to learn more? Then have a look at the following documents:
 UM Internal Review for Award Renewal & Action plan 2022-2025
 HRS4R Endorsement Letter
 Internal Assessment Report November 2017
 UM Strategie
Terms of employment
At UM, you can count on an attractive terms of employment package, most of which have been set out by the Collective Labour Agreement for Dutch Universities (CAO-NU).
Besides a good salary and flexible working hours, we provide plenty of leave days and an end-of-year bonus. But that is not all! We attach special value to your work-life balance and to your wellbeing. This means that we offer opportunities for:
Hybrid working
Which means that you can work partly on location at UM and partly from home, depending on the nature of your position. We believe in a flexible work ethic, so that you can optimally combine your work and private life. If you have a full-time employment contract (38 hours), you can enjoy at least 29 leave days each year. If you choose to work 40 hours a week, you'll have an extra 12 days, amounting to 41 leave days a year! If that is not enough, you can even purchase more leave hours thanks to our CAO Options Model.
Health and wellbeing
Your health is our priority at UM. We have a range of health programmes, access to sports facilities and health checks on offer. For instance, you can get fit through our UM SPORT and benVitaal facilities under attractive conditions. And our Health & Fitness breaks and Work & Move coach ensure a healthy balance between work and movement.
In addition, you can opt to join our collective health and incapacity for work insurance schemes to make sure you're well protected. We offer a collective health insurance scheme with CZ. And with our incapacity for work insurance scheme with Loyalis, you can ensure a financial safety net if you become unfit for work due to illness or an accident. Your wellbeing and future growth are crucial to us!
International
International opportunities await. We regularly offer opportunities for international collaboration, including participation in conferences and projects. We are proud of our involvement in two important European partnerships: YUFE (Young Universities for the Future of Europe) and YERUN (Young European Research Universities Network).
Growth and development
What's more, we are naturally invested in your growth and development. For instance, you can follow leadership training and programmes to develop your leadership skills and to grow to take on leadership positions. In addition, as a staff member we can offer you access to our expansive online learning platform GoodHabitz. Here, you can follow a wide range of training sessions and courses, from professional skills to personal development and more.
Do you need to take a sabbatical? That's possible! Take a free period to concentrate on your personal and professional development, for instance to get a degree, carry out research or develop new skills.
Life in Maastricht
Life is more than work. For relaxation and fun, you are at the right place here in Maastricht. What does the city have to offer? A broad range of cultural activities, from theatre to film (with at least two cinemas and an arthouse) and from opera to jazz. Experimental art, design and architecture in museums and galleries. 
We have laid it all out here, so that you can get a picture of life in Maastricht. Take a look along with our students and lecturers, and see what a day in their life looks like. Get to know the city better. Or read more about studying, researching, living, relaxing or doing sport in Maastricht.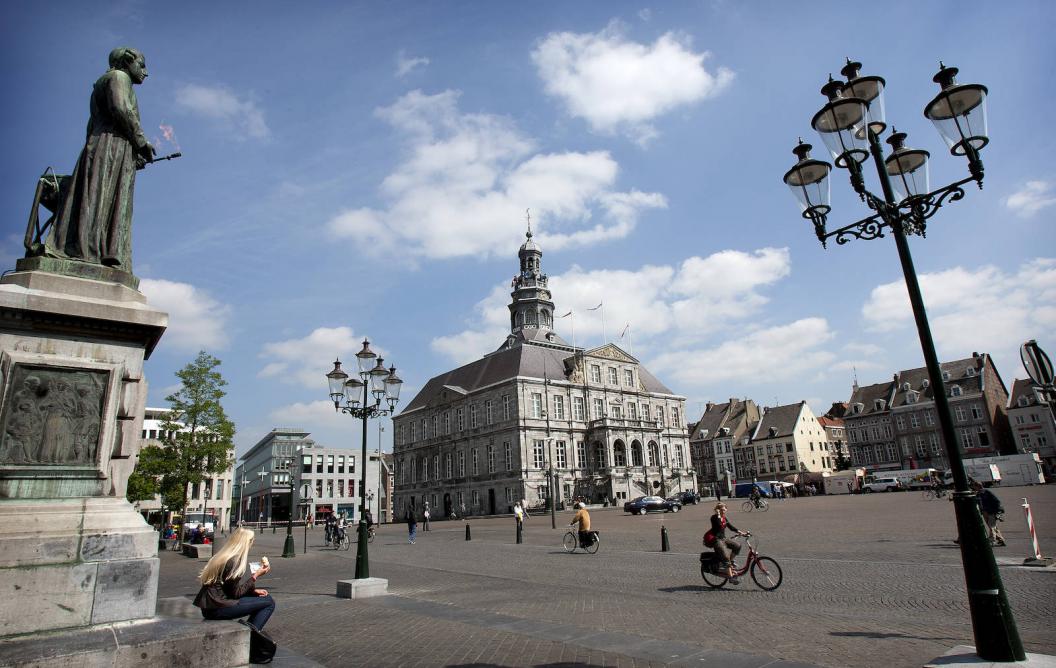 International employerMaastricht University is the most international university in the Netherlands; 40% of our academic staff and around half of our students come from abroad. In addition, our education and research is internationally oriented. Naturally, many activities are held in English and our staff members are offered language courses to improve their language skills. Internationalisation is visible and tangible wherever you look.
To ensure that international staff members quickly feel at home at UM, we pay a lot of attention to creating a hospitable environment and smooth integration in all respects. Examples include social activities, buddy programmes and practical services, such as help in acquiring a visa and language courses. The Knowledge Centre for International Staff plays a proactive role for every international staff member who joins UM, staff who spend a period abroad and cross-border staff. 
Culture and values
Our culture and values set the foundation for everything we do. We are proud of our diverse and inclusive community, in which everyone feels welcome. We attach great value to career development and encourage our staff members to get the best out of themselves and to grow in their careers.
At UM, we strive for your career to give you satisfaction and for your capacities to be used, recognised and valued by others. We help you in developing all your diverse talents and, in doing so, contribute to the goals of our university. We aim to be an open, inclusive and diverse community in which you can blossom by recognising your talents and commitment and rewarding your achievements. We believe that this promotes a challenging work environment and increases your work satisfaction.
The ambitions of Maastricht University are reflected in our own organisational culture and identity and in the mission and vision of the Recognition & Rewards programme. On the basis of this, we have identified four core UM values: academic citizenship, personal/professional leadership, team performance and Open Science and impact. These core values take shape in different ways in each UM position or role. In general, the further you progress in your career, the more opportunities you have to demonstrate your competences in these core UM values.
Maastricht University has established a Code of Conduct on Integrity, based on the codes of conduct enforced by the Universities of the Netherlands (VSNU) in the fields of education, research and business operations. This Code of Conduct includes information and instructions on forms of interaction, knowledge rights, additional activities and (academic) integrity. You can find more information on codes of conduct and other regulations here.
Diversity and inclusivity
At UM, we believe in the power of diversity and we are committed to an equal and inclusive structure. We stand for an environment in which everyone feels welcome and valued, regardless of characteristics such as sex or gender, ethnicity, nationality, age, sexual orientation, religion or disability status.
The Diversity & Inclusivity Office is focused on developing and implementing policy, writing recommendations and providing advice, organising workshops and training sessions, stimulating initiatives and organising events to promote diversity and inclusion. Collaboration initiatives have been set up across all departments and faculties, as well as various communities and networks that connect people, such as the FEM Network, UM Pride and the UnliMited Network. The FEM Network (Female Empowerment Maastricht University) is committed to female staff members and female leadership within the university. UM Pride offers a platform for the LGBTQ+ community at UM. And the UnliMited Network is geared towards disabled and chronically ill staff members and students.
In the project 'UM Cares', UM pays extra attention to staff members and students who carry out care tasks and responsibilities.
Every year, D&I grants are made available for initiatives and projects carried out by multidisciplinary teams of students and staff members that strengthen our inclusive character.
Together, we are building a valuable and inclusive community that enables our people to do the work they love to further shape our university in the coming years. Want to know more? Visit the D&I website.
Meet our recruiters
Connect & Recruit is the recruitment centre of Maastricht University. Our recruiters work together with our faculties and service centres to recruit and attract new staff members for our numerous vacancies. By deploying the right recruitment channels, we support the promotion of internal mobility and job communication directed towards the labour market.
Our recruiters are listed below:
Lisa Turcotte
Corporate recruiter
+31 634577735
Manon Souren
Corporate recruiter
+31 634577732
Vicky Sterk
Senior corporate recruiter
+31 646169946
Patrick Claus
Corporate recruiter
+31 634446707