Climbing and bouldering
The climbing wall in the University Sports Center is 11 meters high. You can climb about 30 routes on top rope, and the wall is also equipped for lead climbing. Route grades vary from 3 to about 7a (French grades).
Climbing and/or bouldering?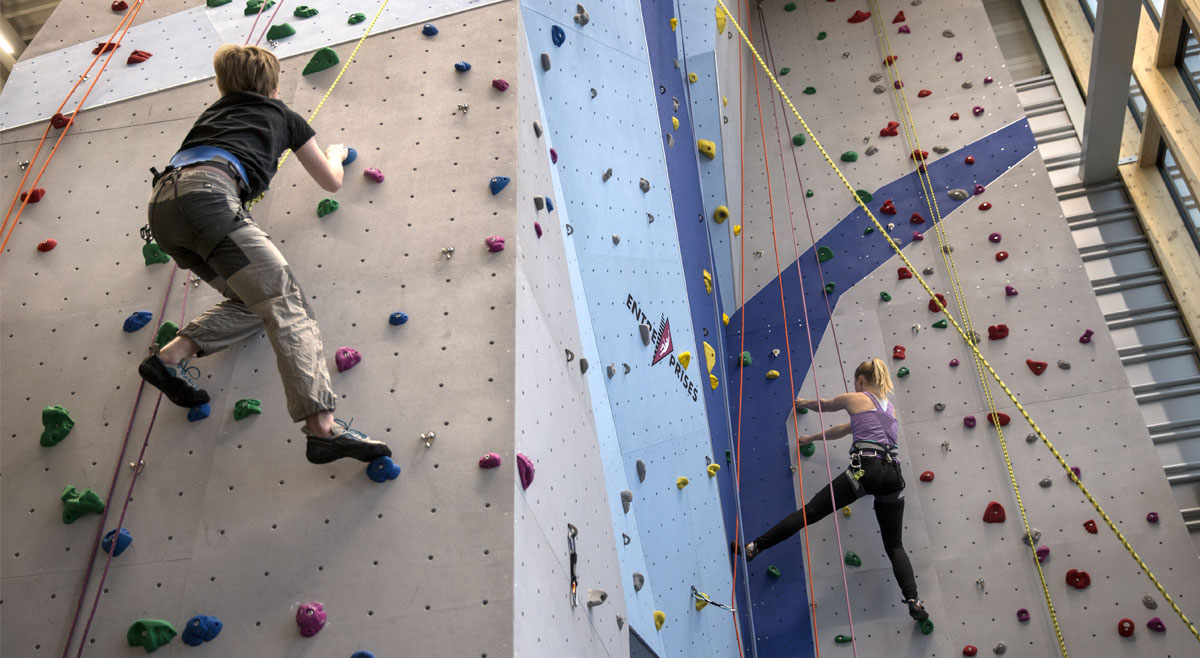 Climbing
Climbing is a challenging sport where you can go to great heights. On our climbing wall you can climb toprope on 12 ropes (about 30 routes) and the wall is suitable for preclimbing. You climb with a rope as a safety device and a NKBV climbing skills certificate is required if you want to climb on your own. If you don't have a climbing license, you can only climb with an instructor.
Bouldering
Bouldering is climbing short routes (boulders) without ropes but with a safety mat at the bottom of the wall. These short routes go up to a maximum height of 4.5 metres. The challenge is to figure out how to climb the boulder. Here, strength, explosiveness, flexibility and technique can all come together. A climbing skills certificate is not obligatory for bouldering.
Access to the climbing wall
Our climbing wall is accessible for climbers with a 'Sports' membership and a Dutch (NKBV) climbing license. Climbing on the long routes on your own is only possible if you have a Dutch climbing license. You can reserve a spot via MyUSC.
No climbing license? Go bouldering, take a class or course
If you do not have a climbing license (yet), you can join classes and courses or go bouldering. For bouldering, you can also reserve a timeslot in MyUSC. You do not need a climbing license for bouldering.
Foreign climbing certificate? Not valid here
Unfortunately, foreign climbing certificates are not valid at our climbing wall. You may climb under supervision or immediately register for the Indoor Toprope Exam to obtain your Dutch (NKBV) climbing license.
Offer
We offer several climbing classes* and courses*, either to learn climbing or to improve your climbing skills.
Introduction class: are you curious about climbing and do you want to try the sport under the guidance of one of our instructors? You can join this 2 hour introduction class to learn the basics. You don't need a climbing license.
Climbing skills class: improve your climbing skills and practice climbing to higher levels. You can join as often as you want: the classes are tailored to the level of the participants. NKBV Climbing license ánd climbing shoes are mandatory!
Start Climbing course: for new climbers who want to learn how to climb safely and on top of that, want to learn the basics of climbing techniques and experience the fun challenges of climbing! You end the course with The Indoor Toprope exam, with which you can get the Dutch climbing license.
Indoor Toprope Exam: for experienced climbers who do not have a climbing license yet, or who have a non-Dutch climbing license. The exam is the same one that is taken after the Start Climbing course. After passing it, you will get your Dutch climbing license.
Fear of heights: climbing is a very good way to help overcome your fear of heights. In 4 classes, we will guide you through different steps to better deal with your fear, and push your limits. We guide you at your own pace and towards your own goals!
Lunch break climbing course: in this course you will learn the basics and the fun of climbing, during you lunch break! We will start off making sure you're able to climb safely with the help of your climbing partner. You get to practice easy and more difficult routes and get tips and tricks on your climbing technique. A really nice way to get to know the sport and to re-energise for the last part of the week.
* All classes and courses require a minimum of 2 participants.
Climbing equipment
If you have a climbing license, you can rent climbing equipment at the USC front desk. Please bring your climbing license if you want to rent equipment. Please note: the available equipment is limited!