Soul kitchen: a peek inside the kitchens of UM employees
More Sergio Herman than Gordon Ramsay
Fried chicken with banana on Sundays, his mother's homemade waffles, his father's lobster à l'Armoricaine, his grandmother's unsurpassed fries. When it comes to food, Didier Fouarge has a wealth of happy memories. An only child raised in Namur, Belgium, he was used to eating fresh, delicious food from an early age. "I was disappointed whenever my mother was pressed for time and plonked down a tin of peas on the table." For this economics professor, cooking is more than a mere hobby.
Fouarge's passion also works its way into his role as the new director of the Research Centre for Education and the Labour Market (ROA). "I compare my role to that of a chef; I'm nothing if the team doesn't cook with me. Just like in a kitchen, everyone at ROA has a different part to play, and we all have to do it right and on time, otherwise we're of no use to one another. If the ice cream is already on the plate and the main course isn't ready yet, you're doing something wrong. It's about timing, talking, sharing expertise and ideas. In style I'm more of a Sergio Herman than a Gordon Ramsay. Less of the shouting, more of the delegating responsibility and showing how inspiring it is to do research or how many different ways you can use, say, a piece of star anise. You can make it into a drink, or a dessert. How do you get such a big taste out of such a hard little thing? That's what research is about, too: how do you handle your ingredients? Our ingredients are data and infrastructure, and together we have to make something from them."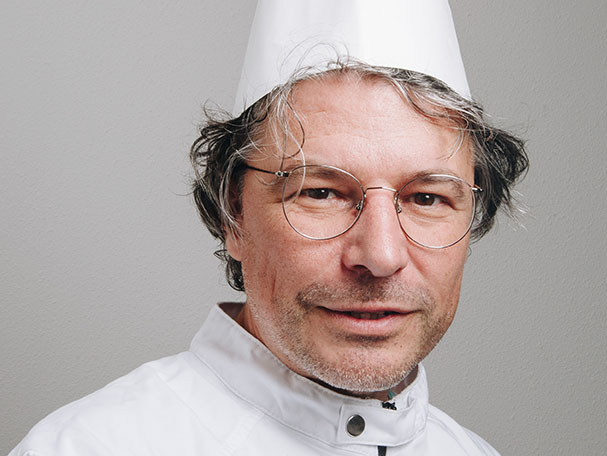 Didier Fouarge, professor of Economics, studied at the Université de Namur before obtaining his PhD at Tilburg University on European poverty policy. He has worked at the ROA research institute since 2007, becoming its director in 2021. Fouarge's research focuses on career and study choice, labour market dynamics, working time and retirement, and human capital.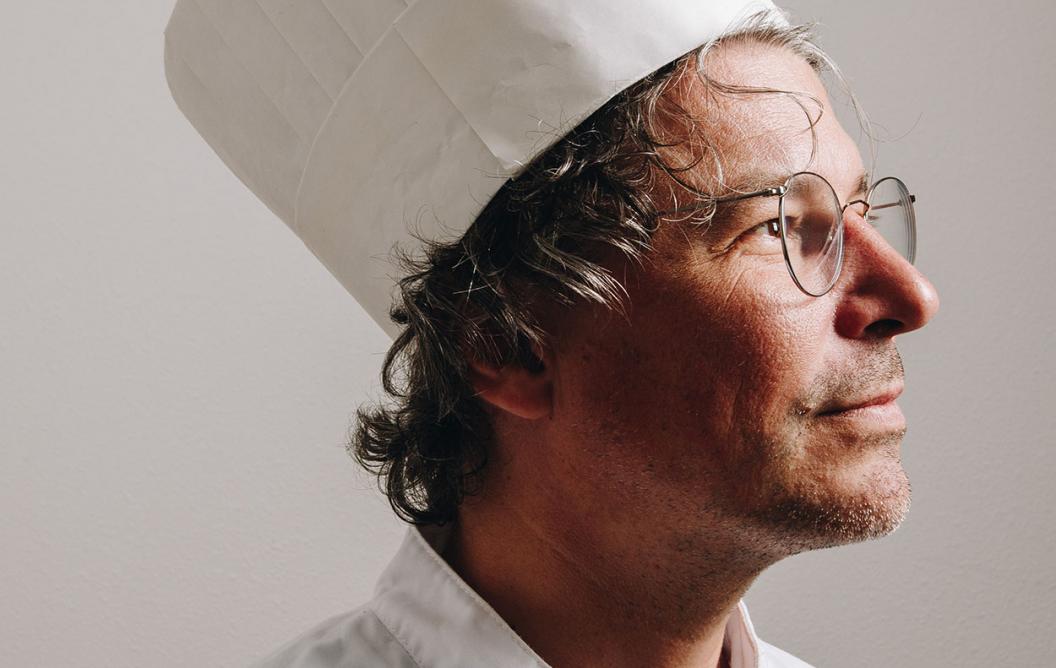 Fouarge is not only the figurative chef at ROA; he has also served as chair of the drinks committee and organiser of multiple culinary experiences. On one such occasion, he personally delivered a homemade dinner to the outgoing director Andries de Grip. "Because of corona, we had to hold his farewell party via Zoom. I left the session early, jumped in the car and drove from Venray to Maastricht. I added the finishing touches there—sprayed a dollop of whipped cream on the chocolate mousse, burnt the layer of sugar on the crème brûlée—and then off I went back home."
Genetics
The roots of his passion lie in Namur, where his mother cooked delicious food with fresh ingredients. "She also bought the wine, mostly French of course, and kept a log of what it cost, what to pair it with, what it tasted like. I've tried that too, but I never manage to stick with it." Fouarge loves nothing more than cooking for large groups, and this, too, he inherited from family. "My maternal grandmother cooked for weddings and parties, and whenever there was something on at school, my parents would make lasagne and spaghetti for everyone. My idea of fun is preparing a meal for 60 kids on a couple of gas burners during a Scouts expedition. Which is not to say it always turns out right," he laughs. "I once put the meat in the river to cool, but the water wasn't cold enough and the meat went off. I had to settle for pasta with some nice herbs, and make up for it with the dessert."
On his father's 70th birthday, he and a friend—his regular cooking buddy—prepared a 12 course dinner for 70 people. "So great to do, making everything yourself, preferably with local ingredients. We served asparagus in different ways and made various dishes with pork, which is easy to get your hands on in Venray. We braised pork cheeks in abbey beer, and to get the guests involved, we came up with a dish with a nice piece of fatty bacon marinated in juniper that we laid on everyone's arm with tweezers to give them a different taste and texture experience. It was brilliant, seeing my parents' friends and family eating a piece of bacon like that in their Sunday best. That's why you do it."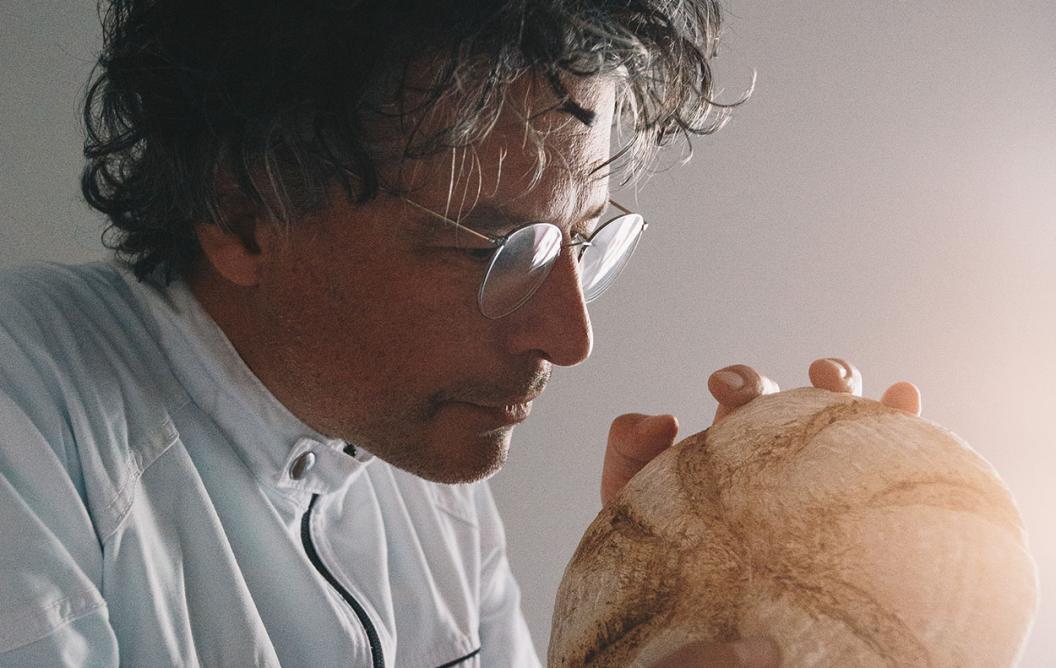 Better in Belgium
It was love that brought him to the Netherlands; specifically, to Venray, his wife's hometown. Having lived here since 1994, he now speaks perfect Dutch—although it took a while. With his children, he speaks French. "I want them to be able to talk to my side of the family." In terms of food, too, the Netherlands took some getting used to. "The first thing I bought here was a bread machine. The bread here is so soggy, and how can it stay good for a week? Real bread is stale after a day. And don't get me started on peanut butter." During the interview, he ducks into the kitchen at regular intervals: his bread dough is rising and has to go into the oven. As a surprise, he presents a delicious crème brûlée, not with vanilla but with star anise. His youngest daughter, 16, wanders in twice in the hope of scoring some already. Unfortunately for her, she will have to wait until dessert.
Broadly speaking, Fouarge prefers the food in his native country, although in recent years a lot has changed for the better. "But chicken is still better in Belgium, perhaps precisely because the Netherlands has more chickens than people." Fortunately, his wife shares his interest in culinary pursuits. "She's into soups with her own broth. I like making everything myself too: mayonnaise, pizza dough. Much tastier and healthier. We'd rather go out for one really nice dinner than six mediocre ones. I'm critical; I want to be able to taste and understand what's on my plate."
Tasting everything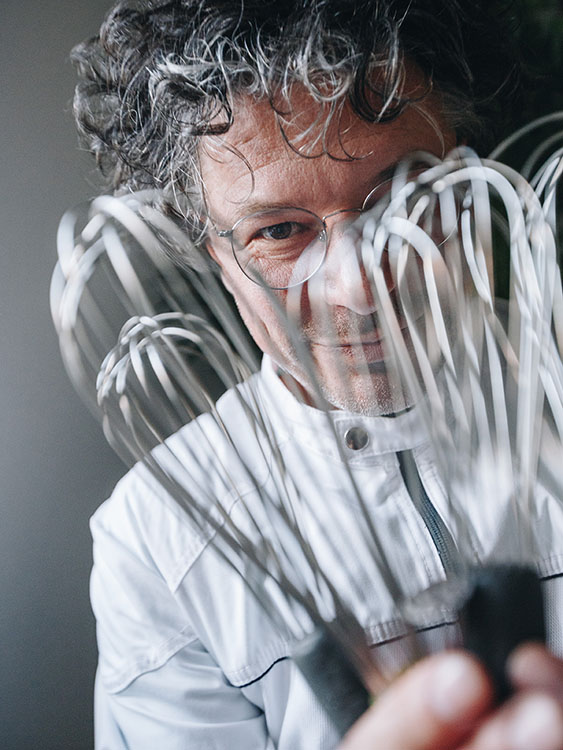 As a Walloon, he was raised on classic French and Mediterranean cuisine. Lobster and mussels are among his favourites, but he likes organ meats too: kidneys, liver, sweetbread and confit duck gizzards and hearts. When on holiday in France, he can't go past andouilette, a type of sausage made from tripe and entrails that the rest of the family abhors. His most exotic food adventures took place in France and China. "We were staying at this campsite where the local shepherd roasted one of his sheep on a spit. As a delicacy, I was allowed to taste the kidneys, cut straight out of the sheep, unwashed and all. That was no fun; it tasted like piss. But if food is offered to you with love, you can't refuse it, if you ask me. In China, I once sucked out duck brains and ate duck tongues, which are very small and hard." At home, vegetables have become more prominent since their youngest daughter became a vegetarian a year ago. In a corner of the garden Fouarge grows his own herbs and tomatoes, and is currently trying his hand at artichoke. "Whether it succeeds remains to be seen. In any event, tonight's menu is Portobello mushrooms with goat cheese, and crème brûlée for dessert."
Also read
Frans Verhey, professor of Geriatric Psychiatry and Neuropsychiatry is proud of what the Limburg Alzheimer's Centre has achieved and of its team, which works tirelessly to improve the quality of life of people with Alzheimer's. "Alzheimer's tends to be seen as a horrible, deadly brain disease that...

Anne Roefs was awarded a Vici grant of €1.5 million. The professor of Psychology and Neuroscience of Abnormal Eating, was tossing up between a career as a scientist or a top chef.