Our Research
The FSD Spearhead focuses on societal challenges related to Sustainable Development, Digitalisation and Globalisation (SDDG), with an emphasis on sustainability in a global context and where digitalisation is a way to innovate global value networks, making them smarter and fairer. The FSD Spearhead activities are in the field of research, education, dissemination and outreach.
The FSD research agenda is geared towards three interrelated themes and a fourth cross-cutting theme that is aimed at studying this type of research by itself:
Empowering smallholder farmers (e.g. access to knowledge and information, data-control and ownership, creating digital IDs, organisation of farmers, inclusiveness in supply chains)
Creating sustainable business models for farmers (e.g. payments for agroecosystem services, the opening of carbon markets, access to markets, reorganising supply chains)
Developing sustainable global value networks (e.g. awareness-raising among stakeholders, redistribution of value, innovation of supply chains, new governance, policies and markets)
Studying transdisciplinary challenge-driven action research (e.g. framing of sustainability problems and solutions, collaboration between different experts and stakeholders)
Research Framework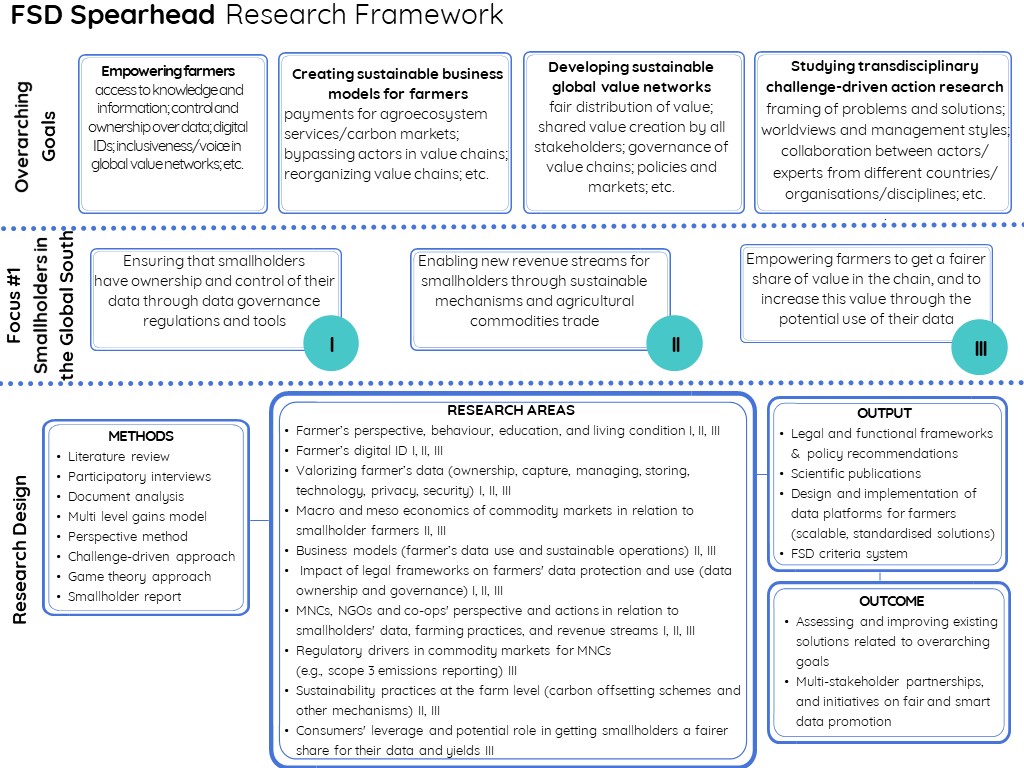 Ongoing Projects
Studying Digital IDs for Smallholders: an overview of current applications in the Global South
How can we make sure that farmers have a unique identification, despite the lack of formal identity cards or land ownership? This project focuses on the role of Digital IDs in enabling autonomous data ownership for farmers by exploring new data governance models and the necessary technological tools in the Global South. The project aims to develop an approach to understanding the digital readiness and friendliness of a country for farmers' Digital Information Management tools, irrespective of whether they are aimed at commercialisation. You can read the report on the current status of digital ID implementations in the Global South here. 
Smallholder-oriented Data Governance Principles
Smallholder-oriented data governance defines the smallholder data ecosystem as comprising multiple stakeholders with asymmetric levels of power, knowledge and resource access. These stakeholders handle smallholder farmers' data responsibly and transparently to empower and avoid harm. Smallholder-oriented data governance requires the more powerful and well-resourced stakeholders to commit to fair treatment and compensation of smallholder farmers. You can read the report here here.
MISACI (ongoing)
In collaboration with Solidaridad and Rabobank, FSD is studying the motives and incentives for smallholder coffee farmers in Uganda to participate in ACORN's agroforestry project and the contribution of carbon payments to their household incomes.
Fair Carbon Pricing (ongoing)
This research aims to determine all the factors influencing the pricing mechanism of agroforestry-based carbon removal units. The research outcome will define a carbon-pricing baseline that ensures fair payment to the farmers. The work will be based on studying carbon farming projects' implementations and business models and the living income and costs that farmers incur when participating in such projects.
Transparency and Traceability in the Supply Chains of Cocoa and Coffee
The cocoa and coffee industries are vital to the global economy and support millions of smallholder farmers. However, they face persistent economic, environmental and social challenges, especially persistent poverty among these farmers. Despite growing awareness among consumers and advocacy groups, limited transparency in supply chains hampers efforts to address these problems. Traceability offers a promising solution, but its feasibility in cocoa and coffee has not yet been explored. Greater transparency through accurate data at every level of the supply chain is urgently needed to help smallholder farmers. To fight poverty, promote fair trade and protect human rights, cooperation between governments, industry leaders, NGOs and consumers is essential. Together, we can work for a fairer and more sustainable future for the backbone of the cocoa and coffee industry - smallholder farmers.