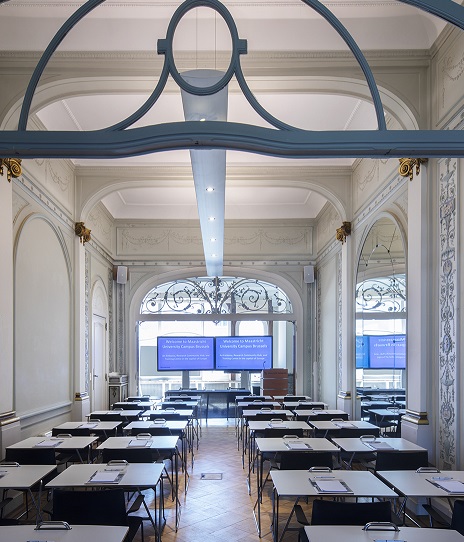 UM Campus Brussels functions as a Maastricht University establishment in Brussels where individuals and groups can work, meet colleagues, exchange experiences, and organise events. To do so, UM Campus Brussels provides a wide range of facilities for both internal and external parties interested in developing new opportunities in Brussels or to expand existing operations in the capital of Europe.
Take a look at our meeting rooms here . 
Organise an event in the heart of Europe
Maastricht University offers UM staff members, students and alumni the opportunity to organise academic events, conferences, courses and workshops at UM Campus Brussels. In addition, external organisers can also rent the meeting rooms for their events.
The UM Campus Brussels team can support you with the event organisation, saving you time and allowing you to focus on content. As of January 2020 all events taking place at Campus Brussels are catagorised into three groups, Public, Public-Private and External activities:
Activity Description
The events in this category contribute to Maastricht University's research, education, and knowledge transfer missions and do not involve an economic activity (ie. organised with public funding).
Examples include workshops to prepare funding proposals, academic conferences, and meetings in the context of publicly funded projects (EU/SWOL/NWO), study trips for Bachelor and Master's students, etc.
These types of activities benefit from free venue usage. Additionally, some level of staff support is available to UM organisers, of the events under this category, free of charge.
Public-Private Activities
These types of activities contribute to Maastricht University's research, education and knowledge transfer missions and involve a revenue. These type of events are executive courses and contract research activities.
Meeting rooms and staff support are available to UM organisers of these type of activities. Please contact the team for more information on rates.
Non-UM organisers are welcome to make use of the UM Campus Brussels premises for a rental fee. All requests to organise external activities will be reviewed to ensure they are sufficiently in line with Maastricht Universities mission (education, research and knowledge transfer). 
Please contact the team for more information on meeting room rental possibilities and rates.