Accessibility
Maastricht University is fully committed to being inclusive. Accessibility, i.e. making information and locations easily available to anyone, is a crucial part of that. In keeping with the wider efforts of the Dutch government to increase accessibility, we have prepared an official accessibility statement.
But we want to go much further than that. We view accessibility, like inclusiveness as a whole, as an ongoing process. We would like to hear your feedback; whether it is about problems you are encountering or suggestions for improvement. We are working on a UM-wide standard on both physical and digital accessibility. To that end, we have set up the taskforce 'Drempelvrij studeren en werken bij de UM' (Obstacle-free studying and working at UM).
Are you a student with a disability or chronic illness and looking for support? Please contact Disability Support at the Student Services Centre. Staff members with a disability or chronic illness in need for support can contact their manager and HR-advisor or prevention officer.
We want to ensure you that we are doing our utmost to include everyone. If you are experiencing any frustrations or doubts in this regard, you can always contact our confidential advisors.
Taskforce Obstacle-free studying and working at UM
Roja Takhtetchian - Team leader UM Student Deans
Sigrid Péters - Disability Officer for students
Gaby Lutgens - e-Learning Coordinator
Yves Maris - Labor Expert
Constance Sommerey (cochair) - Diversity Officer
Netty Bekkers (cochair) - Policy Officer
Accessibility Statement
You can read the official accessibility statement (in Dutch) for the UM website here.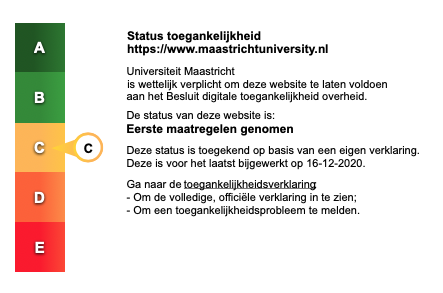 Mobile applications
We evaluated three of our mobile applications in terms of their digital accessibility. The mobile applications are:
Open Day App
Onboarding App
Appraisal App