Dr S. Withaeckx
Sophie Withaeckx is assistant professor in philosophy (UD) at Maastricht University. 
Sophie has experience in teaching courses in gender studies and feminist theory; philosophy and ethics; sociology; project work. Her research has focused on understandings of culture, gender and morality in experiences with violence. She has also been involved in research on transnationalism and transmigration and its impact on social work.
Her current research examines how normative understandings of 'humanity' shape public spaces and institutions and in particular, how diversity and 'decolonization' become managed in higher education. She also examines the ethics of transnational adoption and inquires how taken-for-granted notions of humanness, family and kinship underlie ethics and practice in transnational adoption.
Sophie is co-author of the book "Transmigration: Social Work in a World of Superdiversity" and has published in the Tijdschrift voor Genderstudies, Journal of Gender Studies, Crossings: Journal of Migration and Culture, European Journal of Social Work, Transnational Social Review and DiGest Journal of Diversity and Gender Studies.
She has edited special issues from the Dutch Journal of Gender Studies on 'Decolonising the university' (2017, vol. 20, issue 3) and on 'Researching Intimate Partner Violence' (2021, vol. 24, issue 2).
Phd supervision:
Eva Vergaert, title: 'Intimate partner violence in the general practice. Towards intersectional caring' – in co-supervision with Gily Coene (VUB)
Atamhi Cawayu, title 'Global families, global inequalities. The politics of child relinquishment, search and reunion in transnational adoption' – in co-supervision with Katrien De Graeve (UGent)
Folashade Ajayi, title 'Black activism in Europe and the #blacklivesmatter protests: a comparative study' – in co-supervision with Ilke Adam (VUB)
Sophie has held posts as coordinator and post-doc researcher at RHEA (Centre of Expertise on Gender, Diversity and Intersectionality at the Vrije Universiteit Brussel), and as lecturer and researcher at Odisee University College. She holds master degrees in African Languages & Cultures (UGent), International Politics (University of Antwerp, and a doctorate in Philosophy and Moral Sciences (VUB). Her PhD-thesis, titled "Honour, Gender & Violence in a Context of Migration" explored meanings of and experiences with the concept of honour and so-called honour-based violence among both social workers and immigrants with a variety of ethnic and religious backgrounds. Before starting her academic career, she has worked as staff member and coordinator in IVCA (Intercultural Women's Center Antwerp).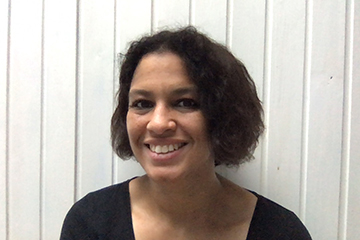 Dr S. Withaeckx
Wijsbegeerte
Faculty of Arts and Social Sciences