Luc Soete awarded honorary doctorate in Sussex
Rector Magnificus Luc Soete of Maastricht University, was awarded an honorary doctorate from the University of Sussex. The doctorate was conferred on Thursday 21 January during the university's winter graduation ceremony. Soete was one of four nominated researchers to receive the title of Doctor Honoris Causa.
Soete was not only honoured for his scientific work, but also for his achievements in various administrative and advisory positions, such as chair of the European Commission's Research, Innovation and Science Policy Experts (RISE) group and adviser to, among others, the Organisation for Economic Cooperation and Development (OESO). The doctorate was conferred by Johan Schot, professor of the History of Technology and Sustainability Transitions Studies and director of the Science Policy Research Unit.
Luc Soete was one of three recipients to be presented with an honorary doctorate during the graduation ceremony. The University of Sussex conferred the honorary degrees during the graduation ceremony to inspire students and to help them realise that achieving their personal goals can also lead to them making a difference in the world."
CV Luc Soete
Professor Luc Soete (1950, Brussels) was appointed Rector Magnificus of Maastricht University (UM) in September 2012 and has worked as a professor of International Economic Affairs at UM's School of Business and Economics since 1986. Soete is a member of the Royal Netherlands Academy of Arts and Sciences and chairs the Research, Innovation and Science Policy Experts (RISE) group for the European Commission.
In 1988, Soete set up the Maastricht Economic Research institute on Innovation and Technology (MERIT), which developed into a leading research institute for the economic analysis of technological development and innovation. MERIT became part of the United Nations University in 2005.
Click here to read Luc Soete's full profile.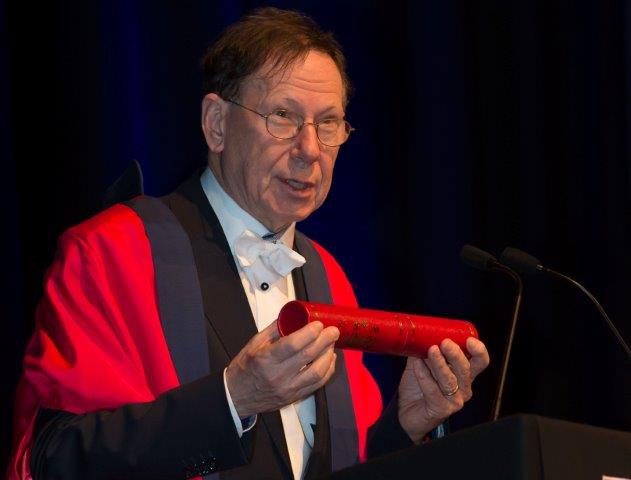 Also read
A breakthrough in cultured meat research-animal component free production

The Netherlands Organisation for Scientific Research (NWO) has awarded a grant under the SGW open competition to a research proposal written by Prof Dr Math Noortmann (Institute for Transnational and Euregional cross border cooperation and Mobility / ITEM) and Prof Dr J.B.M. Koning (UM School of...

Since the 2015 adoption of the Sustainable Development Goals (SDGs) and the 2030 deadline, the first Dutch national SDG Barometer study shows that there is a lot to be optimistic about.