Maastricht of… Leo and Rianda Graus of Tribunal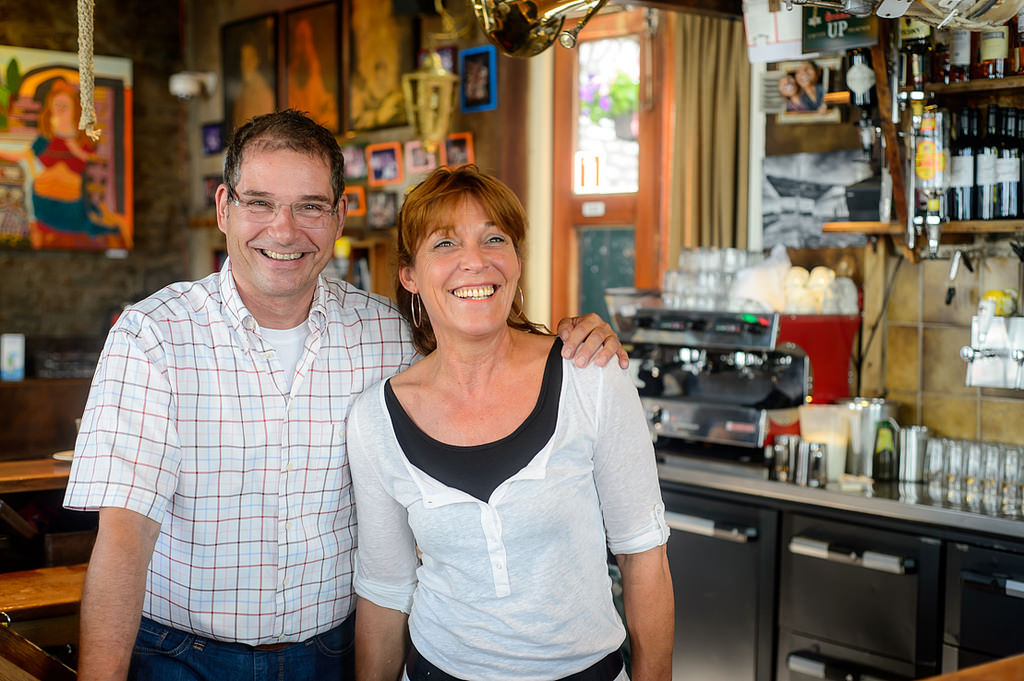 When studying in Maastricht, especially if your faculty is in the city center, you know café Tribunal. Whether it is because you have an occasional coffee or lunch, or because you can relax there after a tough day, it's the place where you're sure that you can meet new people and have good service with a smile. And then you see Leo or Rianda, who run Tribunal, their enthusiasm is contagious and makes you smile, however shitty your day may have been.
This couple met 20 years ago (1995) when Leo was working in the café his parents had passed on to him two years prior and Rianda, then working as a stewardess for Lufthansa, was out for a drink with some friends. She thought he probably was one of those guys that carries a lot of baggage and was reluctant to start dating him. However, in 1998, the two married after dating several years.
Though his parents had stopped running the place, they still came for a drink at Tribunal everyday, until it wasn't possible anymore.
Tribunal is a famous institution in Maastricht, offering so much more than just a drink and good food: providing the theatre students next door with crazy nights (which have a certain reputation of resulting in people dancing on tables), catering to the staff of the law faculty (you can often find the Dean there reading a paper) and accommodating students with their first coffee that day (best coffee in town). We had a talk with the owners and 'their Maastricht'.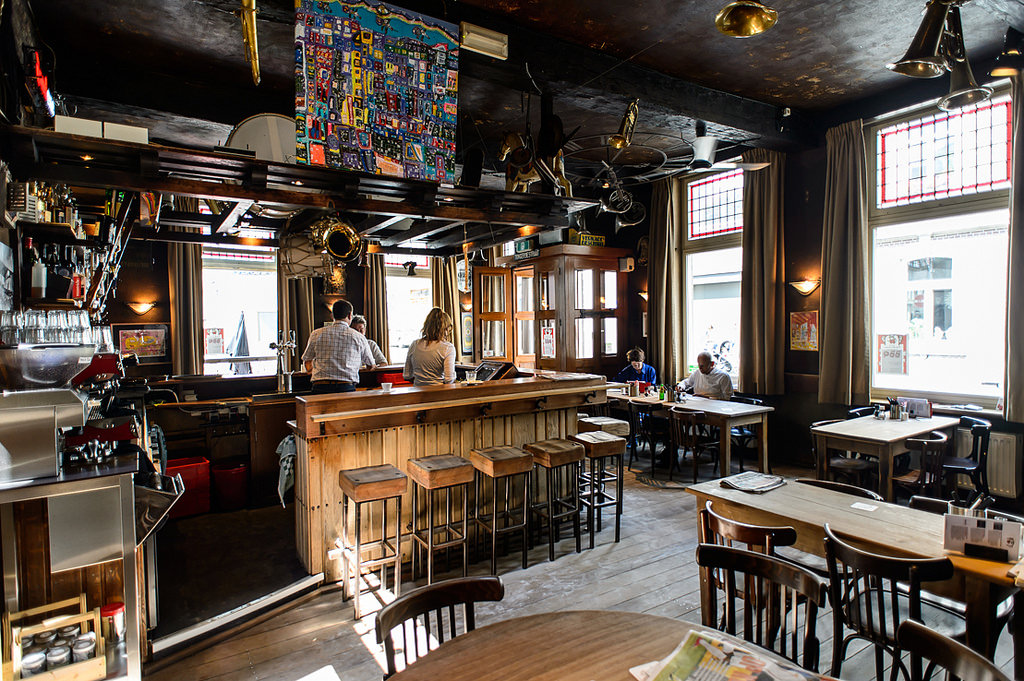 Ashika Baan: What is your favourite bar or restaurant?
Rianda Graus: As we run our own bar we have some regular spots where we go. I love Il Bacaro, it's perfect to have a bite, seeing as they have a concept of little dishes, tapas-style, and the quality of the food and drinks are good! In the late hours we like to go to Café Sjiek, which is perfect to have a relaxing drink before going home. Also, in Wyck there's a new bar called 't Wycker Cabinet, which has a nice atmosphere.
Leo Graus adds that Il Bacaro is their go-to place for a nice, light supper and that the concept they offer there is very successful, you don't feel leaving stuffed, everything is in moderation, plus you can come there quite late and still be served dinner.
AB: Where do you like to go shopping in Maastricht?
Rianda: My style varies a little, but I love the portable line that Scapa provides. You can always find something nice there. Also, Depeche in the Platielstraat is somewhere I like to go when I need something. For classy affairs, Max Mara is ideal, because it's very chic and you feel very feminine. For jeans I prefer Levi's, they're very comfortable and the styles don't change too much.
Leo: For my clothes I go to Camel Active, it's simple, classic and not too fussy. As for my shirts there is one place in Maastricht and that is Kölse Tes, in the Maastrichter Smedenstraat, the center. They have beautiful shirts and for shoes of course the well-known Monfrance. I'm pretty easy for clothes actually, he adds, winking.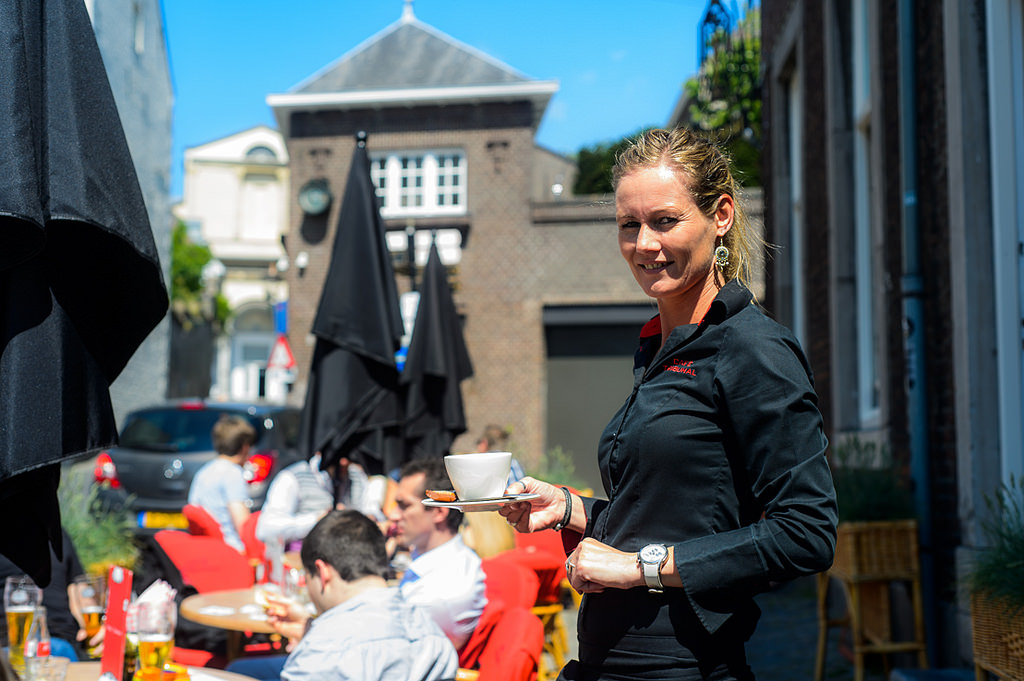 AB: What is your favourite event in Maastricht?
Rianda: We always go to the TEFAF, the biggest art fair in Europe. The opening night we get tickets for and that night it's all about people-watching. You see so many interesting people that attend the exclusive opening night, you could write a book about it. We also love the Preuvenemint, the restaurant event in August where approximately 30 restaurants and caterers from the region show their best and provide the public with little amuse-bouche sized bites, while drinking a cocktail and listening to music. The event lasts for several days and the Sunday is always synonymous for the night that the locals come (Maastrichtenaren), so you can find us there.
AB: Where do you go to experience culture and art?
Rianda: Well, the TEFAF, as mentioned before is a great place to enjoy art, there's more art in one place than 10 different museum exhibitions could house. Of course, we have a close connection to the Theatre Academy next door to Tribunal, so we go to their performances and end-of-year pieces. Also, we both really love the opera, so you can find us once a year in Verona, where we visit the opera. I love Puccini, and my dream is to see Nabucco in Verona, unfortunately this year we're going to miss it, but it will happen some day!
LG: I love to listen to jazz music, and of course, as Rianda said we love the opera.
But when you pick up our Ipod, you will find all sorts of music. Ranging from Elvis Presley to Maria Callas.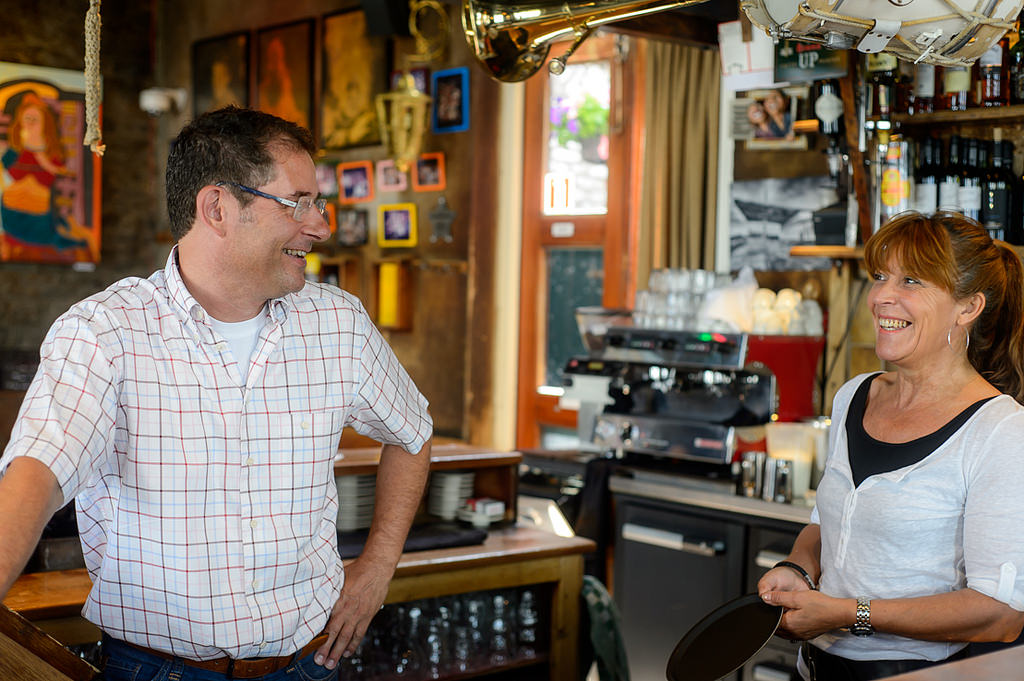 AB: What is a unique experience that makes Maastricht so special?
Rianda: When you wake up early and you see Maastricht is starting to rise, you can see people walking to work, going about their business. Also, something that never ceases to take my breath away is when you stand in Wyck on one side of the river and you look at the other side, Maastricht city center, with the sun shining on it. That is magical.
Leo: I'm a real chauvinist; there is nothing more beautiful than Maastricht to me.
AB: Which person (historical figure, old friend) would you like to show Maastricht to?
Rianda: I think it if Jacques Brel would've written a song about Maastricht it would be a song showing you the impossible and doomed choice of staying here and leaving this place. It's poetic.
Leo: I think I'd show my grandfather around. He would've loved to see what Maastricht has become.
AB: Where do you go to relax?
Leo and Rianda: We go home to relax. For us it's an oasis of peace and quiet. We live outside the city, and in our free time we keep busy in the garden and by cooking. We have a passion for cooking, mostly Italian, but not too long Leo made this amazing Tandoori, marinated and then prepared in our Green Egg (a ceramic barbecue, in the shape of a green egg, obviously). We love to cook with it.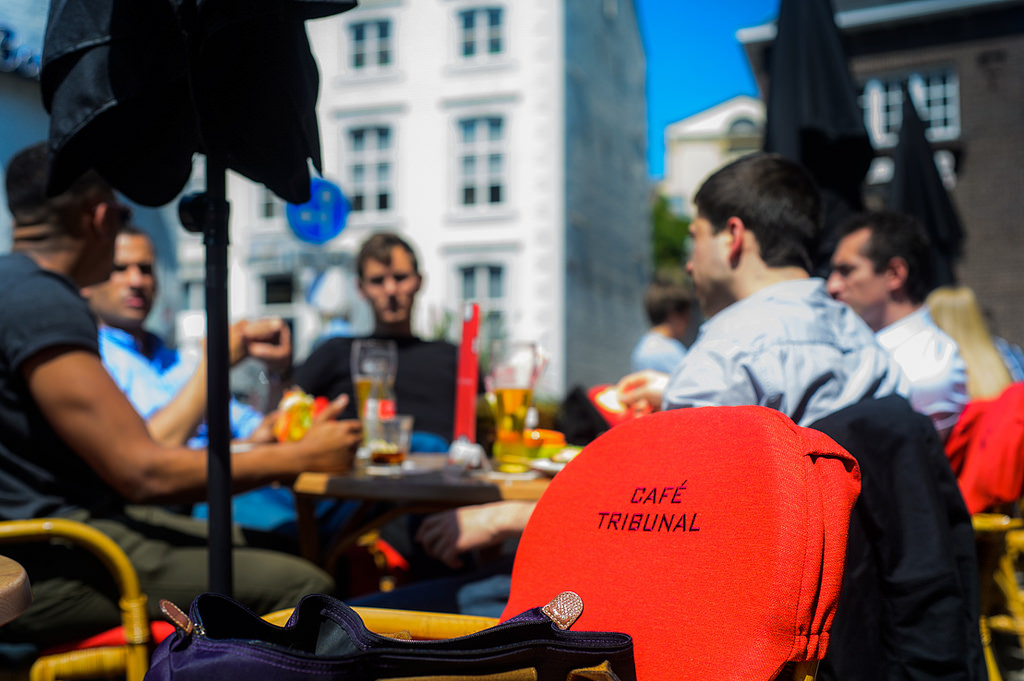 AB: What is the main reason to have a shop or your business in Maastricht?
Leo: You have a chance to grow in Maastricht. We just opened our terrace outside, and it's something we've been busy with for a while. The chance to make more of what you have is a good thing in the entrepreneurial spheres. As a café we don't want to stand still, we're always busy with something new, more innovative.
Rianda: It's true, sometimes I wonder what I would do if we didn't have Tribunal. I thought about it some time ago and I think I would start a dog kennel, you know, in the style of Cesar Milan, dogs that could run around and be free.
LG: Also, Maastricht is unique in the sense that it offers you top-notch quality in different sectors: fashion, gastronomy etc. Everything that happens here, happens well! The only thing that's not so good for the region is the blossoming ageing of the population. Since all the jobs are in the North of the Netherlands, in the so-called Randstad, young people move out of Maastricht. We should do more to keep talent here. It's also a shame because in the summer all the students have gone and we have a very quiet 6 weeks here.
AB: Describe Maastricht in 3 words.
RG: Sjoen, Sjink, Sjeng (literal translation: beautiful, ham, local. Originating from a Maastrichtian song)
LG: delicious, cozy, beautiful.
Once they're done with Tribunal, the couple will probably move back to Maastricht, as we can conclude, you can't live without Maastricht, it's uniquely fascinating.
Photography: Brian Megens. Click here for more pictures.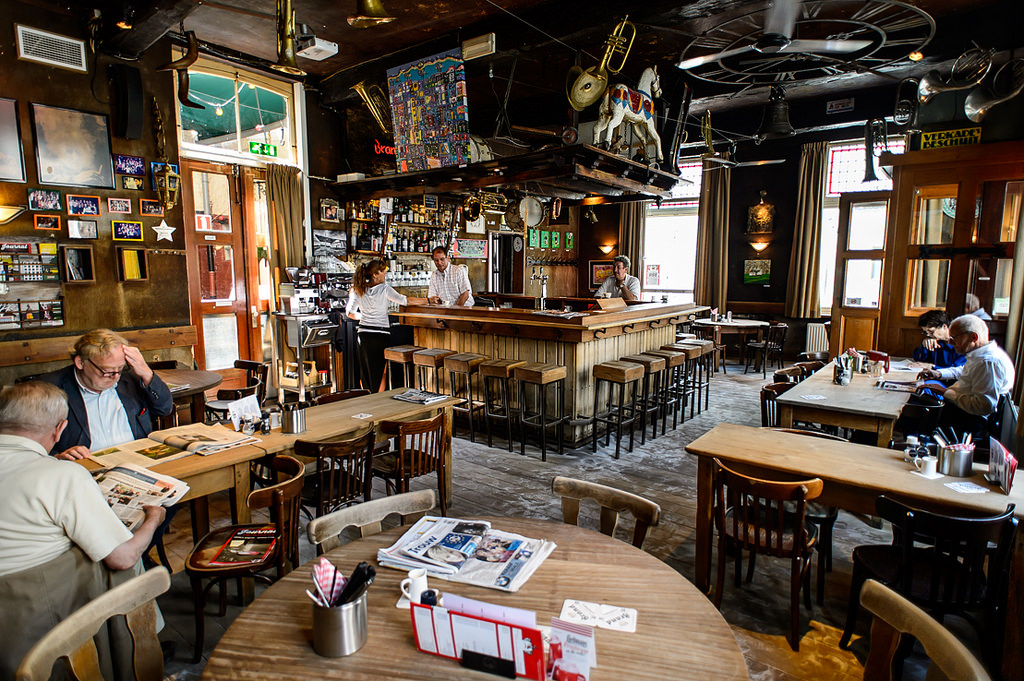 About the author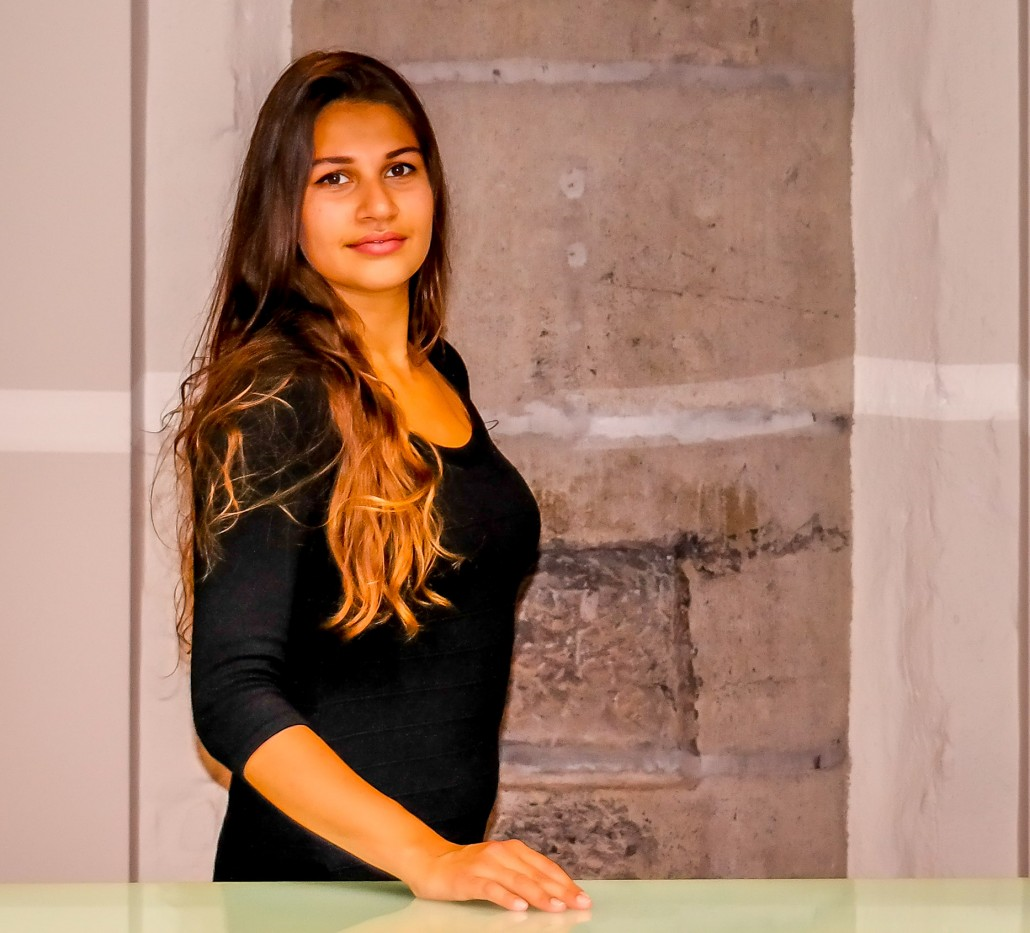 Ashika studied law at Maastricht University.  She was a contributor to the Maastricht Students blog from August 2014 to July 2015.
Other blogs:
Also read
The new University Sports Centre officially opened earlier this year boasting more modern and spacious sports facilities, increased study spaces and a chic Sports Café Time Out! One of the first to move in in the new building is the university sports council, MUSST. They have their office right by...