Get Office 365 for free
Office 365 Education is available for free to staff and students who are enrolled at UM.
Install Office on up to 5 PCs or Macs and on other mobile devices, including Android, iPad®, and Windows tablets.
Download Office Education (@UM) here (first fill in your UM email address in the Microsoft window and click "Next". Then proceed to login using your UM username and password).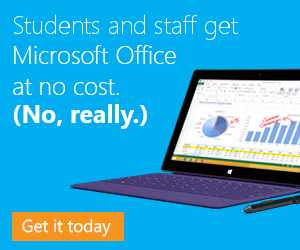 Frequently Asked Questions
What is Office 365 Education (@UM)?
Office 365 Education is an Office 365 plan that is available for free to UM staff and students. This plan allows staff and students to install Word, Excel, PowerPoint, Outlook, OneNote, Publisher, and Access (Access only for staff) on up to 5 PCs or Macs and Office apps on other mobile devices including Android, iPad®, and Windows tablets.
Where does the offer for UM differ from the generic MS Office 365 for staff and students offer?
At the moment UM does not offer access to OneDrive, Skype for Business and SharePoint to its staff and students.
How long can I use this plan for?
Students can use the plan until they graduate or are no longer enrolled at UM. For staff members the plan is available until termination of employment. Eligibility will be re-verified automatically. At expiration, the Office applications enter a reduced-functionality mode, which means documents can be viewed but it isn't possible to edit or create new documents.
Can I share the plan with others?
No. Office 365 Education is licensed for use only by the eligible UM student or staff member.
What are the minimum system requirements for Office 365 Education?
To install Office 365 Education, your PC or Mac must meet the minimum system requirements.
View the system requirements.  
I'm having trouble installing Office, where can I get help?
If you're experiencing issues trying to install Office on your PC or Mac, see Troubleshoot Office installation with Office 365 for business  or contact ICTS Servicedesk.
I am unable to login and activate my licenses
There can be 2 problems:
1. Accounts need to be accessed every 3 months in order to keep the license valid. Please make sure you logged into your account in the last 3 months.
2. Accounts are replicated for Office365 licenses on a daily basis. An account that was created (and logged into) today is eligible for an Office365 license tomorrow.
3a. Students: Make sure you have an active enrollment at UM. Upon graduation, when you terminate your studies or in case of a financial hold access will be suspended.
3b. Employees: Make sure you have an active employment contract directly with UM and that your personnel number is registered on your user account. Seconded personnel or MUMC+ with an employment contract at the azM are not eligible for UM's Office365 offer.
Is an uninstall of earlier versions of Office required prior to starting the installation of the Office package offered via Office365?
This is not required, however it is highly recommended. Previous versions may cause issues after installation of the new Office version.
I do not have a Dutch spell checker in Word.
The English version of MS Word does not include a Dutch dictionary. You can re-install the Dutch version of Office or download/purchase the Dutch Proofing Tools/Language Pack from the Microsoft Website.
Which version do I install (32 bits vs 64 bits)?
Because of compatibility issues with some plug-ins We advise to always install the 32 bits version of Office. Please check the help text on the download page for information on the limitations of the 64 bits version.
Can I install Office 365 at my office computer supplied by UM?
This is not advised and in most cases installation will be actively blocked. UM currently standardizes on Office versions 2016 (Windows and Mac). These versions have been tested and found to be compatible with UM's back-end systems. As Office 365 versions can be changed by Microsoft they might differ from UM standard and as a result may cause problems when connecting to the UM back-end systems.