An indispensable role for T cells in liver immuno pathology
Role of immune metabolism in a mouse model of Non Alcoholic SteatoHepatitis (NASH)
M4i researchers have collaborated with an international team of scientist to study the role of immune metabolism in a mouse model of Non Alcoholic SteatoHepatitis (NASH). The team discovered an indispensable role for T cells in liver immuno pathology.
The research, which was recently published in Nature, showed auto-aggressive killing of cells in an MHC-class-I-independent fashion after signaling through P2X7 purinergic receptors. This killing by auto-aggressive CD8 T cells fundamentally differed from that by antigen-specific cells, which mechanistically distinguishes auto-aggressive and protective T cell immunity. Imaging mass spectrometry performed at M4i was used to generate metabolic image of ATP and arachidonic acid in liver tissue of mice fed a normal diet or CD-HFD by MALDI-MSI confirmed the altered immune metabolism.

The paper also marks the first tangible output a recently started collaboration between the group of Prof. Percy Knolle at the Technical University of Munich and M4i of Maastricht University in the framework of the Hans Fisher senior fellowship awarded to Prof. Ron Heeren. It demonstrates the need of a cross-disciplinary collaboration to tackle the biological complexity of disease. Truly team Science in action!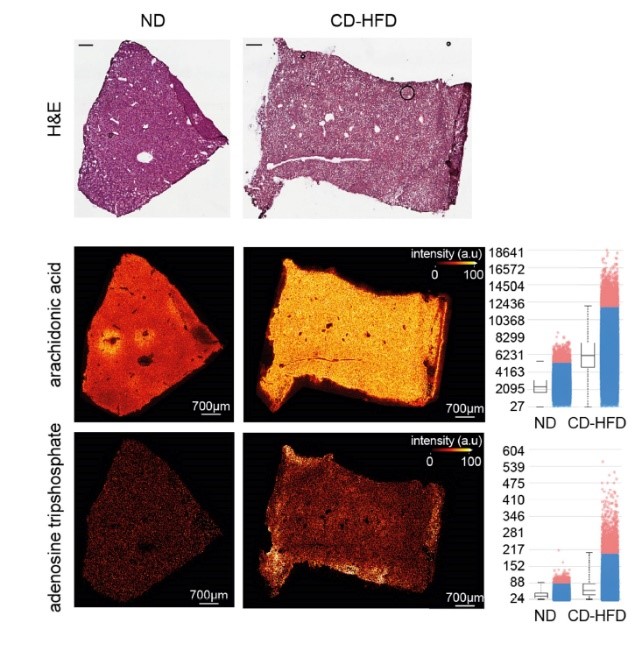 M4i Team Science in action
Read more about these research results:

https://www.nature.com/articles/s41586-021-03233-8
https://rdcu.be/chrUt