Masterpieces Unveiled: The SCIMITAR Project and the Intersection of Art and Science
Caroline Bouvier wanted to be an illustrator, but ended up in chemistry. She managed to combine both of her passions in her research - creating molecular fingerprints of some of the world's most valued paintings, including old master art from 15th to 17th centuries. As of October, Caroline is one of UM's newest researchers, working as a postdoctoral fellow in Sebastiaan van Nuffel's group in the Maastricht MultiModal Molecular Imaging Institute (M4i). Using mass spectrometry and collaborating with leading art institutions such as the The Courtauld Institute of Art and the Rijksmuseum, through her project SCIMITAR she aims to unlock the mysteries of paint compositions in centuries-old masterpieces, shedding light on their creation and preservation.
Caroline Bouvier wanted to be an illustrator, but ended up in chemistry. She managed to combine both of her passions in her research - creating molecular fingerprints of some of the world's most valued paintings.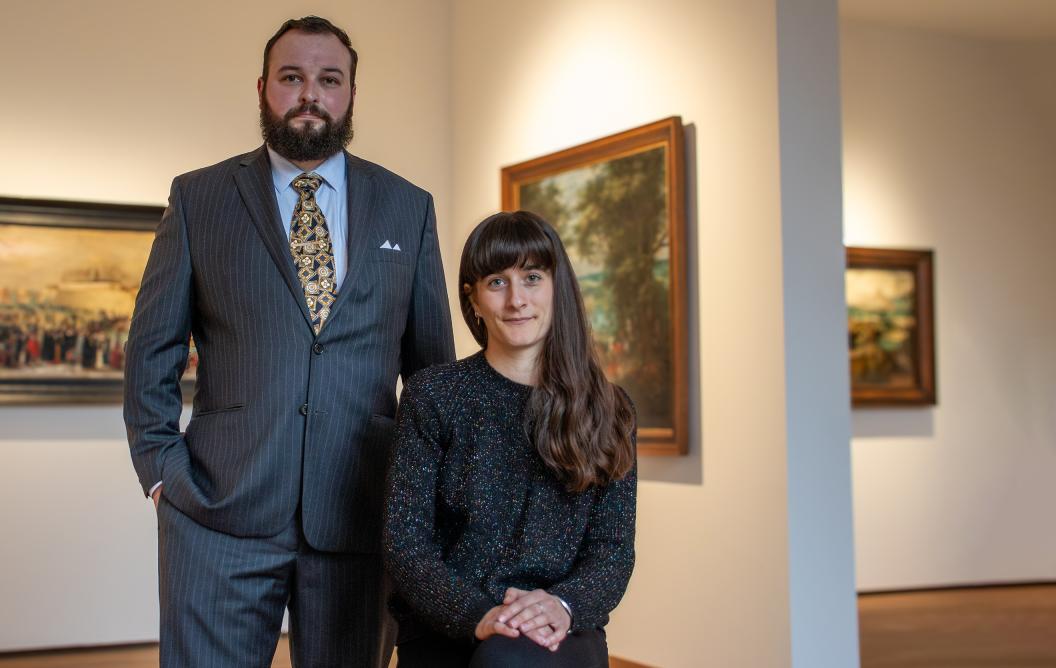 Choosing mass spectrometry as her primary technique, Caroline pursued her PhD with a focus on analysing painting samples and colours. Surprisingly, this method was scarcely used in the field, confined to specialized labs, one being in Paris. She became aware that mass spectrometry could be invaluable in examining museum and heritage artefacts, particularly organic materials that are notoriously difficult to analyse. Precisely the kind of information that museum curators seek is often found within the complex data generated by this technique. Caroline thus developed SCIMITAR - Synergistic Combination of Immunolabeling and Molecular Imaging Technologies for Art Research, for which she was awarded with a Marie Skłodowska-Curie Actions grant (MSCA), funding her project. The primary objectives of this project involve enhancing the analysis of paintings and making the research findings more accessible to a wider audience.
Obtaining a highly detailed chemical analysis, which was not possible before, will not only make it much faster to decide how to preserve an object, but also enable researchers and historians to connect artworks based on solid evidence for art history. This improved approach isn't limited to just paintings; it can be applied to a wide range of things like sculptures, violins, ancient mummies, jewellery, fossils, leather items, modern materials, and even things that aren't connected to heritage. Essentially, it opens up new possibilities for understanding and preserving a wide variety of objects with complex organic-inorganic microstructures.
Caroline's first goal is to develop a method for identifying reliable marker ions within mass spectra. These marker ions can be confidently linked to specific compounds present in the painting, providing valuable insights into its composition. She then plans to use a technique to allow for a deeper understanding of the proteins present in heritage materials, contributing to the overall analysis. Lastly, to ensure that the complex image information, MS and MS/MS spectra, and protein maps are easily shared in interdisciplinary contexts such as painting investigation, Caroline wants to focus on creating a user-friendly displaying tool that will empower researchers, including conservators and art historians, to navigate and annotate the data from their unique research perspectives. The ultimate aim is to democratise access to these research findings, making them accessible to individuals without prior mass spectrometry experience.
The paint samples for SCIMITAR will come from some of leading art institutions, namely The Courtauld Institute of Art (London, UK), the Rijksmuseum (Amsterdam), and the Stichting Restauratie Atelier Limburg (SRAL; Maastricht). This means that Caroline and her partners will be working with samples from old master's artworks from these wide collections of art.
She has been granted access to carefully collected samples of priceless artefacts, and the challenge is to keep them as intact as possible while collecting the maximum of data revealing how centuries-old artworks were created. For that, Caroline's approach is humble and emphasises the need for multidisciplinary collaboration; she notes that the synergy with her collaborators arises from their diverse backgrounds, which enliven the multidisciplinary approach of their research. She points out that successful research in this domain necessitates collaboration between experts in historical techniques and analytical sciences straight from the beginning of each project. The questions posed by historians and art curators require the expertise of scientists, while scientists need the insights of historians to effectively refine their inquiries. Nuances in analytical sciences are intricate, making effective interpretation of data and communication a demanding task.
Caroline Bouvier's journey from aspiring illustrator to a pioneering researcher in mass spectrometry highlights the value of multidisciplinary collaboration in unravelling the mysteries of our most treasured artworks. With her passion for both art and science, and the support of her team, Caroline's work promises to make significant strides in the field of heritage conservation and art analysis.
Caroline Bouvier works at the Sebastiaan Van Nuffels group within M4I (a cooperation between FSE and FHML). Sebastiaan is an assistant professor at the Faculty of Science and Engineering as well as the M4I Division of Imaging Mass Spectrometry.
The growing group already counts five scientists. They all focus on the use of imaging mass spectrometry for research purposes.
Relevant links