Maastricht Sustainability Institute Hosts Presentation and Network Day to close of Integrated Sustainability Projects
The Maastricht Sustainability Institute recently organized the Presentation and Network Day as a culmination of the "Integrated Sustainability Project" (ISP) course, which is a key component of the Master's programme in Sustainability Science, Policy and Society. The event, held on the 11th of May at Tapijn, celebrated the completion of the four-week ISP course and showcased the impressive sustainability assessments conducted by the participating students.

The Integrated Sustainability Project challenges students to collaborate in teams and undertake sustainability assessments for real-life cases. This year, the project cases were sourced from a diverse range of 14 local, regional, and international clients, encompassing government entities, businesses, NGOs, and other organizations. The selected topics spanned a wide spectrum of sustainability-related issues, including cement production, social integration, energy, circular economy, and ecosystem preservation.
During the ISP Presentation and Network Day, the students presented their findings and recommendations to the clients who sought consultancy from the course. The event featured a total of 14 presentations and posters, which vividly illustrated how the students effectively applied their knowledge and skills in sustainability assessment to address real-world challenges. The presentations not only demonstrated the students' commitment to sustainable practices but also showcased the practical impact of their work.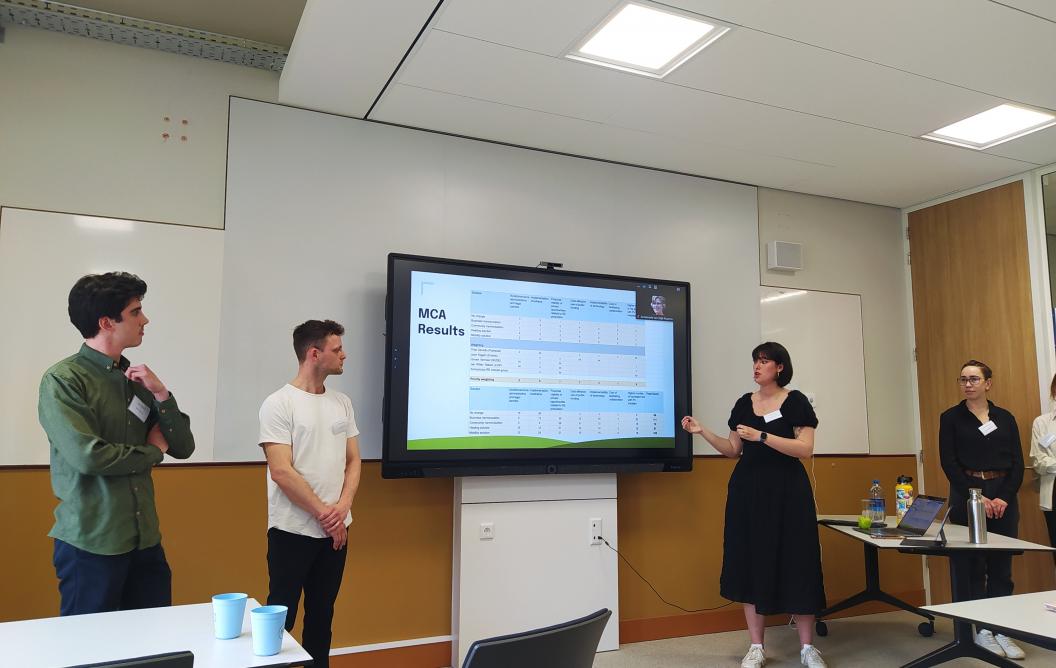 The event provided a valuable opportunity for the participants to forge connections and engage in meaningful discussions with sustainability professionals, experts, and stakeholders. Attendees were able to gain in-depth insights into the sustainability challenges faced by different organizations and receive strategic advice on tackling these issues.
"We are immensely proud of the dedication and achievements of our students in the Integrated Sustainability Project," said Ningna Xie, who teaches at the Maastricht Sustainability Institute. "The Presentation and Network Day highlighted the significance of sustainability assessment and its application in addressing complex societal and environmental problems. We are grateful to our clients for their collaboration and look forward to future partnerships that drive sustainability forward."
The Maastricht Sustainability Institute is inviting organizations to submit their sustainability challenges for consideration as potential future projects for the next edition of the Integrated Sustainability Project in the spring of 2024. Interested parties who would like to benefit from the expertise of students in conducting sustainability assessments are encouraged to get in touch.
For more information on the Maastricht Sustainability Institute and the Integrated Sustainability Project, please visit the institute's website or contact our office directly.
About Maastricht Sustainability Institute:
The Maastricht Sustainability Institute is a leading research and education center dedicated to advancing sustainable practices and addressing environmental challenges. The institute offers a comprehensive Master's programme in Sustainability Science, Policy and Society, equipping students with the knowledge and skills to drive positive change in the field of sustainability.