Soulkitchen: a peek inside the kitchens of UM employees
Food is family
What she eats matters less to her than who her tablemates are. Ronit Shiri-Sverdlov, professor of Inflammation and Metabolic Health , is happiest when eating at home with her family. That's how she felt back in Tel Aviv, and it hasn't changed now she lives in Maastricht. The chef is whoever feels like cooking, the food is whatever they happen to have on hand. Usually something simple, unless it's a holiday, when they pull out all the stops. "Jewish tradition means a lot to me. The thought that during Passover and other holidays my family is sitting around the table in Israel just as we are here is exciting for me."
Ronit Shiri-Sverdlov's roots are actually in Baghdad. In 1951, both sets of grandparents fled to Israel to escape rising antisemitism in Iraq. "They had to make arrangements in secret so as not to be betrayed by their neighbours. They left everything behind to start over in Israel. My parents met in the reception camp for refugees from Iraq. Israel is a country of immigrants from all over the world, but in my parents' neighbourhood most people were of European heritage. So it took them some time to get used to the culture and the food. I remember that in our apartment complex, people loved my mother's food precisely because it was different. In Israel the hot meal is in the afternoon, so when I came home from school there was always this wonderful aroma of Mediterranean spices. We ate traditional Iraqi dishes like kubbeh [dumplings], sambusak [pastries with savoury filling], meat and rice. My father couldn't conceive of a meal without rice. So it's in my genes," she jokes. "I literally can't make bad rice."    
Global inspiration
Her mother didn't exactly teach her how to cook. "The kitchen was her domain, she wouldn't allow anyone in there. And we had a very small kitchen, so we wouldn't have fit in there anyway. My mother didn't follow recipes. She used a bit of this and a bit of that, and even that, she varied. She did inspire me a lot, though. I like to cook what I used to eat at home, but not only that. My husband has Russian, Polish and German roots, so he was used to a very different type of cooking. Thanks to him and my brothers and sister-in-law, who also come from different places around the world, I've got to know many different types of food. I draw on those influences too. There's no such thing as 'Israeli cuisine'—it's still such a young country—but if I had to pick a typical dish, I'd say shakshouka, which is easy to make even if you have few ingredients on hand."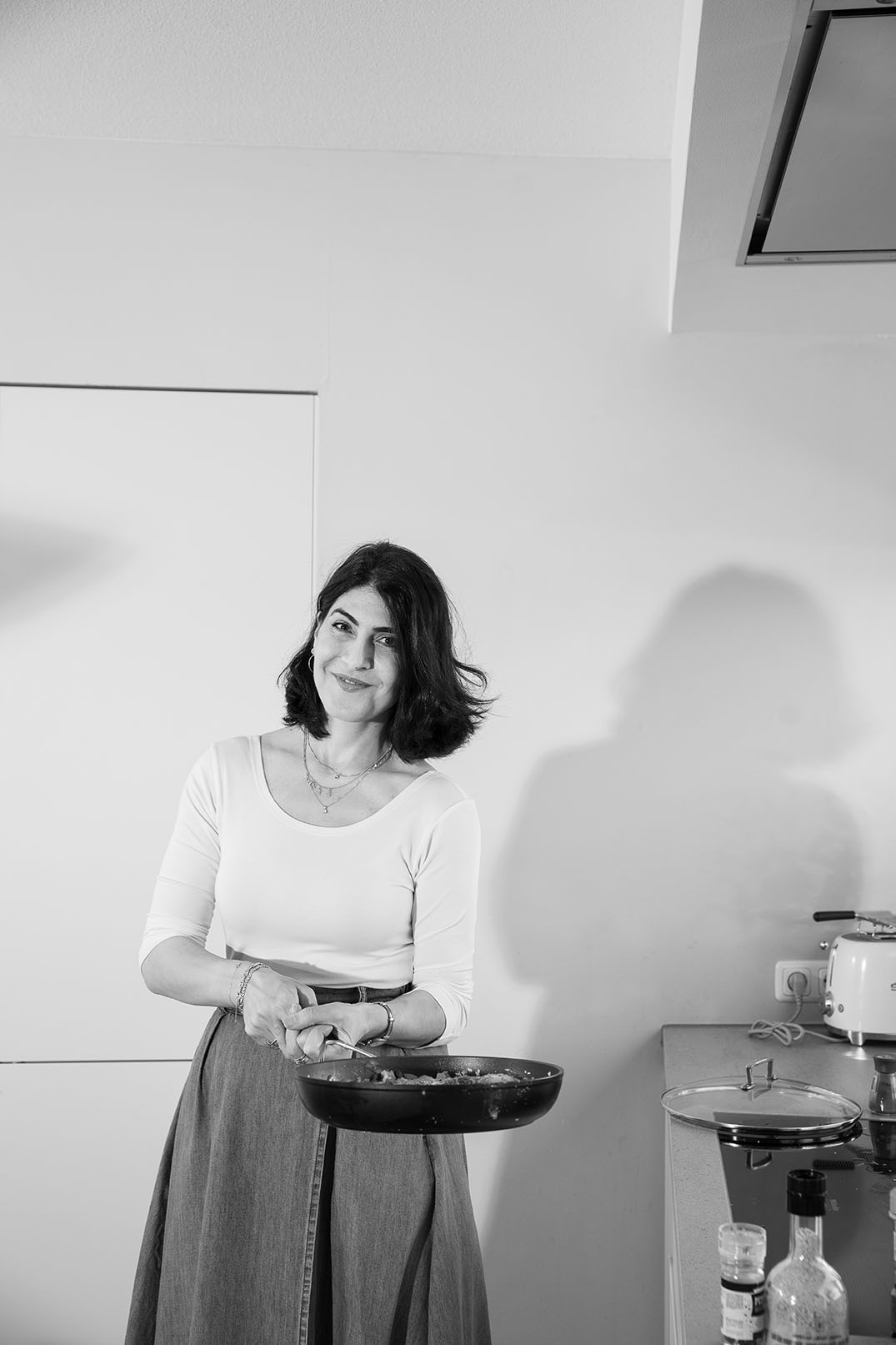 Ronit Shiri-Sverlov, professor of Inflammation and Metabolic Health, studied biology at Tel Aviv University. In 2002 she obtained her PhD there on genetic mutations in breast and uterine cancer. She then took up a postdoc position in the Molecular Genetics department of the NUTRIM research institute at Maastricht University. She is now chair of the Department of Genetics and Cell Biology.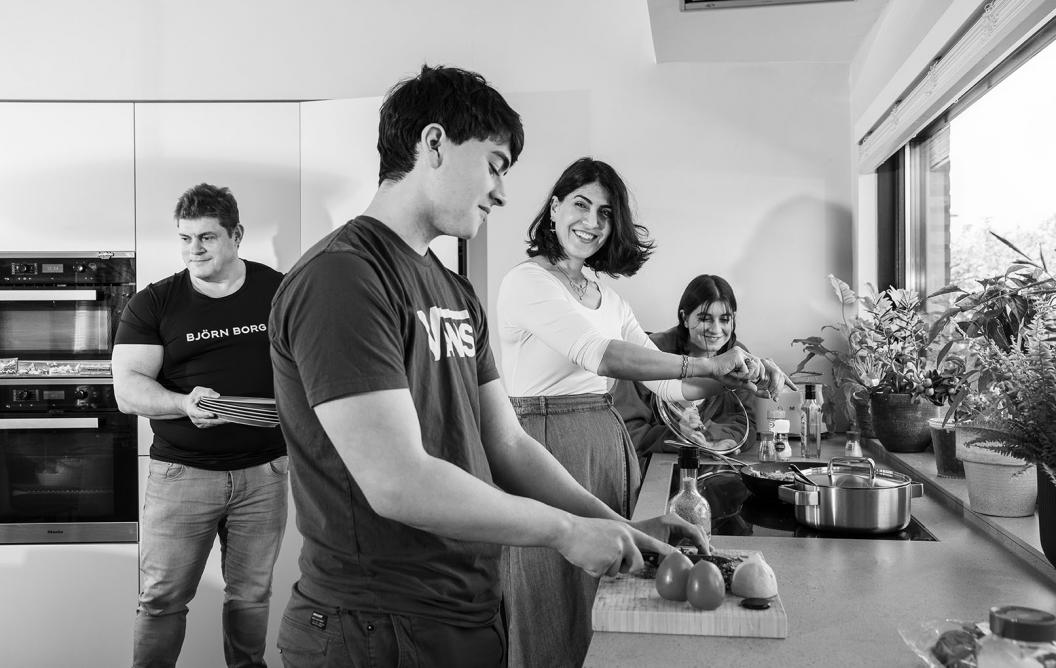 Ronit Shiri-Sverdlov with husband and her two youngest children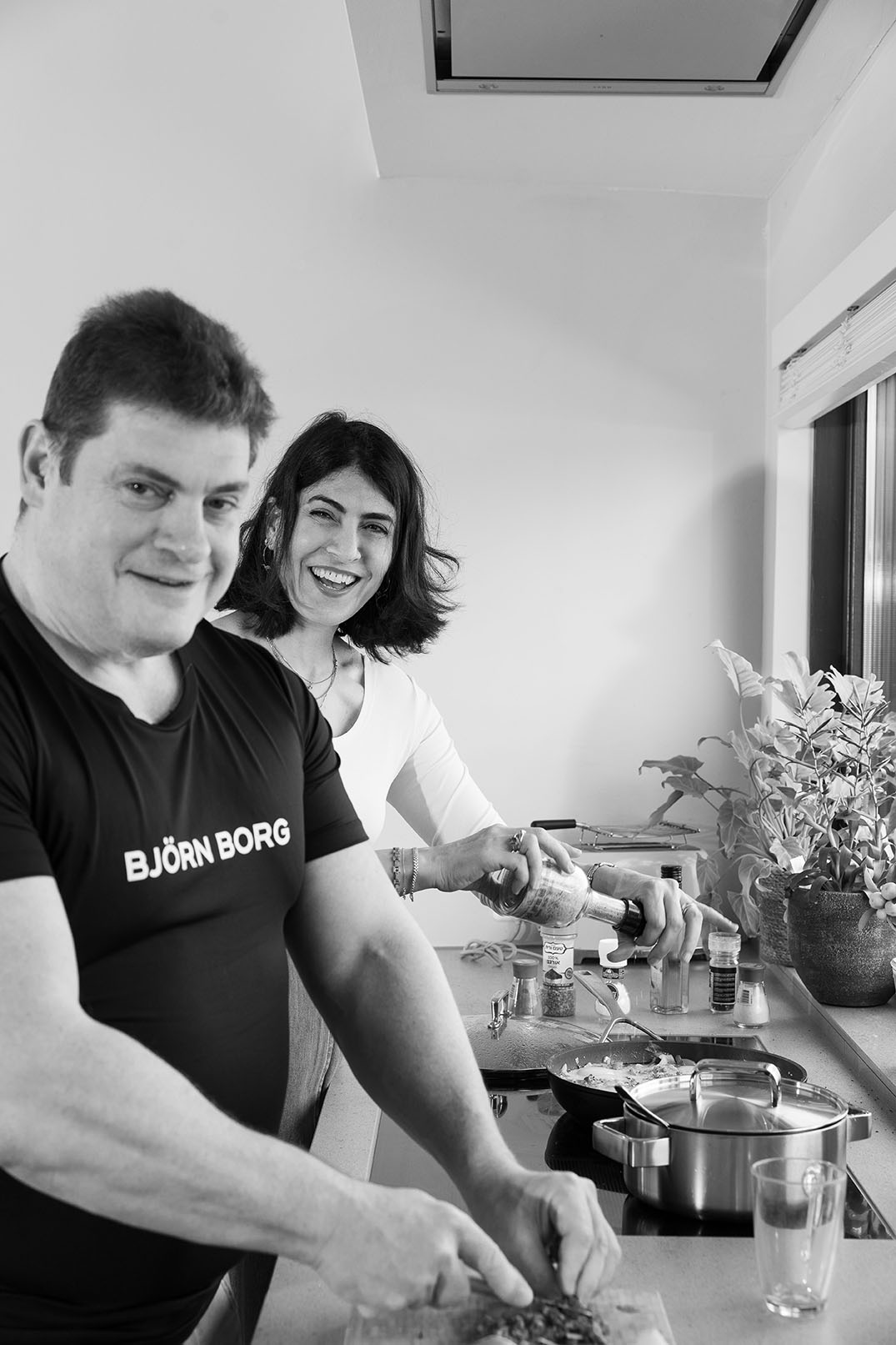 She misses other things from Israel, too: the sea, the language, the culture. "It's the little things. I don't have to explain anything there, everybody knows how to pronounce my name. People interact more naturally, more emotionally. Whenever I'm there, I feel like a Dutch tourist for the first few days, but after that I'm like a fish in water again. I dream of returning, but I've learned not to plan, so we'll see. For the first four years after moving to the Netherlands I was convinced I'd go back soon. Over the years I've become more relaxed about it and I enjoy living here too."
Mini Israel in Maastricht
Tel Aviv is, she says, an open, vibrant and youthful city. "For me it was the centre of the world, it's alive and happening 24 hours a day. Gronsveld [the village she first moved to] was an adjustment," she adds—quite the understatement. She arrived with her husband and two eldest children in 2002; her youngest two were born here. In 2006 the family moved to Maastricht. The eldest now lives in Israel and the second is studying in Amsterdam. At home they speak Hebrew; she is keen to pass on Jewish traditions and values.
"Our house is a kind of mini Israel, not only when it comes to food, but also culture. During Passover there's a ritual feast where we sing together and read the story of the exodus from Egypt. There are all kinds of rituals, we bless certain foods and drink four glasses of wine over the course of the evening. Because they couldn't bake bread during the exodus, flour products are prohibited. Passover lasts a week in Israel. It's an important celebration; our children will come home for it, just as I used to. The ceremony has been performed in the same way for thousands of years, handed down from generation to generation all over the world. I don't see it as a religious thing. I didn't have a particularly religious upbringing, but it's a direct connection to my heart, to my roots, to my family in Israel. This way I hope to raise my children's awareness of where they come from. Only then can they know which direction they want to go in the future."