GROW Science Day 2023: We are GROW!
Location: Hotel van der Valk, Maastricht
Date: June 15th, 2023
Time: 8.30– 16:30
Please register for the Science Day here.*
GROW Science Day 2023: We are GROW!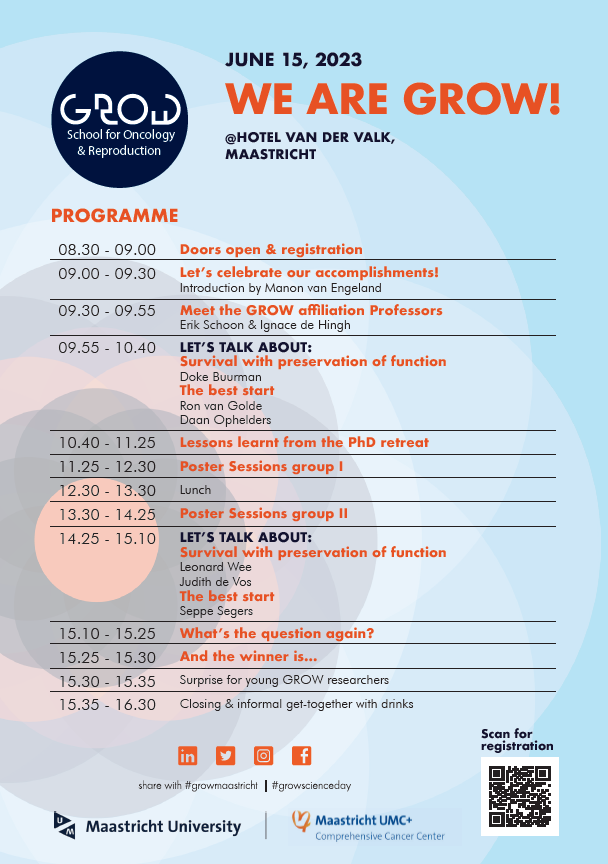 On Thursday, June 15th, the annual GROW Science Day will take place again. As the theme of the day 'We are GROW' already suggests, this year's programme is meant to inform you about GROWs accomplishments and its research. Are you aware of the research that takes place within GROW? And how this fits within our mission?
On June 15th you have the chance to meet two of our affiliation professors and learn all about the meaning and impact of GROWs main missions: 'The best start' and 'Survival with preservation of function'. Our PhD candidates will have the opportunity to present their own research projects during the poster sessions. And the audience will also get a chance to test their own knowledge…! The day will end with informal drinks.
GROW looks forward to meeting all of you in person and hopes to see you June 15th!
Should you have any questions, please feel free to contact us via secretariaat-grow@maastrichtuniversity.nl.
*The event is free of charge, because we consider it a valuable investment into your personal development, but registration is mandatory.