Facilities at the Campus
The monumental UM Campus Brussels' historical building is located in a popular Brussels residential area near Montgomery, well known for the large amount of embassies and representations in the immediate surroundings. From a practical perspective, the Campus is ideally situated between central metro and bus stops Merode and Montgomery and is only a few minutes away from the European institutions and the city centre by both car and public transport.
At this unique venue, UM Campus Brussels offers its specialized rooms and facilities, aimed to provide both internal and external organizers with the best tools to host their events. UM Campus Brussels also enables organizers to promote their event through the UM Campus Brussels media channels and through our newsletter.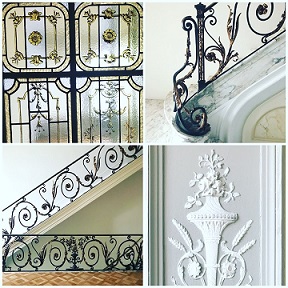 Rooms and facilities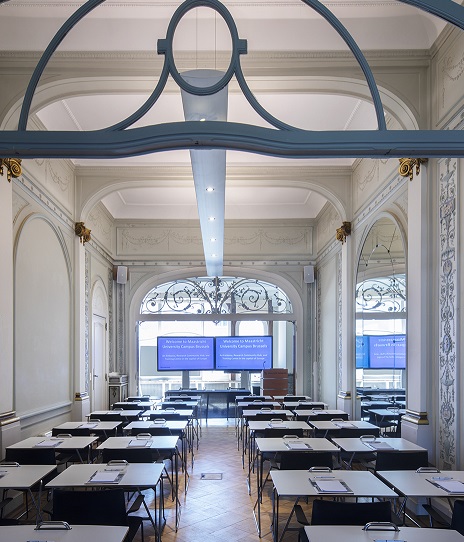 The building's inner decoration radiates a true Maastricht University feeling. The building offers different types of rooms which can be used for different purposes. As the building is located near the main European Insitutions it is an ideal location to book a high-end workshop, a meeting or host a presentation. UM Campus Staff members are trained in academic and professional event coordination and look forward to help you host your event. For bookings of a meeting room or conference or for an appointment to visit the building please contact the UM Campus Brussels at campusbrussels@maastrichtuniversity.nl.
Please take a close look at the terms and conditions involved in booking a room at the UM Campus Brussels. General Terms and Conditions.
Meeting Rooms

Reception
Located on the ground floor is a reception area with a dedicated desk allowing you or a campus team member to welcome participants. Conference material can be disseminated here and there is a possibility to display your organisation's logo on a large flat screen behind the reception desk. 

Bel-etage
Situated on the first floor there is the Bel-Etage. This room is suitable for large scale conferences up to 50 people seated with or without writing tablets or networking events for up to 70 people.
The room is equipped with large screens displaying the content of the presentation. Adjustments to the Bel-Etage set up can take place after communicating with the team on staff availability and possibilities.

Maastricht Room
The Maastricht Room comes equipped with a large screen and beamer. The room seats 26 people around a board room style table.

Executive Board Room
The executive board room functions as a place for small meetings up to 6 people.
Hotel and catering partners
Thon Hotels
UM Campus Brussels has a partnership with Thon Hotels. Enhance the level of service you offer to your participants by offering the possibility to stay the night at Thon Hotels. You can book a certain number of rooms in advance. Participants shall use a registration form provided by the hotel to make their room reservation.
With this procedure your participant is in charge of the guarantee and payment of their room individually by credit card. This method is called a group booking (min 10 rooms)  with individual pick-up.
Through our partnership, all Campus-affiliated parties and event organizers have the opportunity to book a hotel room at Thon Hotels with a 12% discount on the Best Available Rate. To do so, either send an email to Thon Hotels, contact Thon Hotels on phone (+32 2 700 78 78) or book directly through www.thonhotels.be while using our special UM Campus Brussels TH code TH29156873.
This discount applies for anyone who wishes to use the TH code, meaning your personal contacts may also benefit from our rates, so feel free to share this information. The 5 different Thon Hotels are located in different areas in Brussels, in the EU area (Thon Hotel EU, near metro Maalbeek) in the downtown area (Thon Hotel City Center, near metro Rogier) in the uptown area (Thon Hotel Bristol Stephanie, near metro Louise) and near the Airport.
Catering
The UM Campus Brussels offers the possibility of tailored catering service at your event. Catering at the Campus can be arranged by an external company which is able to offer standard packages or specific requests. UM Campus Brussels mainly cooperates with Zaventem-based caterer Esstragon, a highly qualified catering company with a wide range of products. Next to the catering opportunities provided by Esstragon, we can also offer a more simple lunch through one of our local catering partners. It is also possible to arrange catering through your own catering partners.
While planning an event at UM Campus Brussels you can indicate your catering wishes on the event form, or contact the UM Campus staff for more information on catering possibilities.