Dr. Nick Bos
Vice-President Maastricht University
Dr. Nick Bos studied economic and social history at Utrecht University. In 1985 he joined the Netherlands Organisation for Scientific Research (NWO) to conduct research on the significance of nineteenth century transitions such as democratisation, industrialisation and commercialisation for the upper classes. In 1995 he obtained his PhD on this subject at Utrecht University.
From 1990 to 1999 Nick Bos worked at the former Faculty of Humanities at Utrecht University. During this time he also worked as a freelancer, writing books and conducting projects commissioned by organisations such as the Dutch Council for the Judiciary (LDCR), the Euregional Manifestation Initiative Group, the Foundation for Industrial-Economic Research and the Regional Employment Board (RBA). At the university, he combined his work as assistant professor of social relations with his roles as a study adviser, head of education and student affairs, and director of the Education Institute for Media and Public Relations.
In 1999 Nick Bos relocated to Maastricht University, where he managed the Student Services Centre until 2003. In mid-2003 he was appointed director of strategy and management, and in 2007 managing director of the Maastricht University Office and secretary to the Executive Board.
As of 1 January 2014, Nick Bos is vice-president of Maastricht University's Executive Board.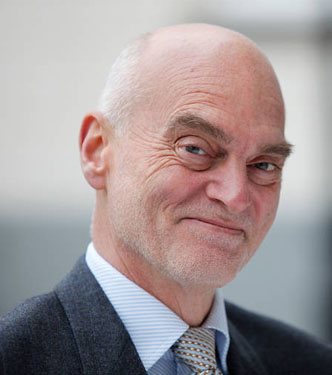 Contact

Secretariat
  Sandra Kolkman
  + 31 43 38 83154
  Sandra Kolkman
Additional positions
Related to the position as Vice-President Maastricht University
Chairman Board Life Science Incubator Foundation Maastricht
Chairman Board Student Housing Foundation Maastricht
Chairman Arts and Heritage Commission UM

Member Supervisory Board Entrepreneurship & Innovation Labs BV

Member Steering Committee Brightsite
Member Steering Committee Brightlands Future Farming Institute
Member RegioBoard Circular Hub
Member Regional Steering Board JTF
Other additional positions
Member Supervisory Board VISTA College (formerly ROC Leeuwenborgh)

Chairman Board Museum Van Bommel Van Dam

Member Board of Trustees Maastro Protonentherapie B.V. 

Chairman Supervisory Board MET ggz
  One business activity in the immediate family, namely a daughter who owns KACE-design, a graphic design studio.
Over the years he has been a board member for various institutions and organisations, including:
Member Executive Board Studielink (ended 1-10-2019)
Member Supervisory Board Museumplein Limburg (ended 1-10-2019)
Member Board of Trustees Brightlands Chemelot Campus BV (ended 1-7-2019)
Member Board of Trustees 'Wonen boven winkels'
the Social Historic Centre for Limburg
Maasland Monographs
the adult education centre HOVO-Limburg
the Centre for European Studies
the Maastricht Convention Bureau
the Urban Policy Management Committee (Regiegroep GSB-3) 
Team Venlo